The Mayor of Marywood
If Marywood had a mayor, it would be Austen Miller. The senior history/pre-law major is a familiar face on campus. Most value his social presence, the way he advocates for fellow students, and his positive relationships within the campus community. While cultivating an environment where all students are encouraged to pursue opportunities to thrive, Miller is eager to use his platform to encourage students to soar.
Miller's notoriety stems from his ability to keep himself immersed in the student life experience. For starters, he's an active participant in the commuter committee for the Marywood Activities Council and a student orientation leader. Over the past four years, experiences such as those enabled him to familiarize himself with campus, to gain leadership skills, and to build relationships with the Marywood community.
Those combined experiences proved to be the perfect preparation for his current and arguably most important role thus far, president of the undergraduate Student Government Association (SGA).
"I had to learn how to put that extra weight on my shoulders", said Miller. "It's something that I've grown into. You have to learn how to carry yourself."
As the SGA president, Miller acts as a liaison for the student body's voice, ensuring there's ample communication and collaboration between all student clubs and organizations. He's an advocate for a more welcoming, accessible, and inclusive campus for all members of the Marywood Community.
"I just want to share the same support that was given to me", said Miller. "I was fortunate enough to have support from amazing people like the former SGA president, Alexis Palys, and from Dr. Adam Shprintzen. I can't say enough positive things about them. I try to impact other students in similar ways. I want their time here to be that much more fulfilling."
2022 has been quite the year for Miller. Last spring, he made a speech in support of funding for state grants on the Pennsylvania State Capitol Steps. He was also recognized on the 2022 ALL IN Student Voting Honor Roll, which is a program that recognizes college students doing outstanding work to advance nonpartisan democratic engagement. Miller joined a group of 82 college students recognized for their nonpartisan voter engagement efforts on campuses across the country.
Following graduation, Miller plans to attend law school to fulfill his dream of becoming an attorney.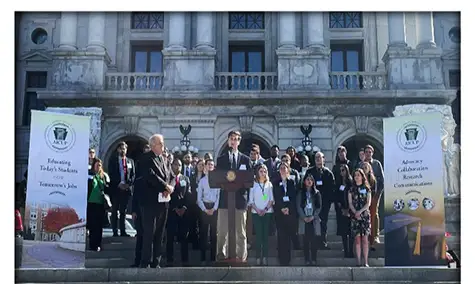 Austen Miller (center) gives a speech from the PA State Capitol Steps in April, 2022.
While college student voter participation in elections increased from the 2014 midterm election to the recent 2018 midterm election, less than half of college students made their voices heard by casting their ballots. According to the National Study of Learning, Voting, and Engagement, voter turnout at the more than 1,000 institutions participating in the study increased by 21 points from 19% to 40%.
Washington Monthly ranks Marywood University among America's Best Colleges for Student Voting. Plexuss ranks the History/Pre-Law program among Pennsylvania's Top 20 Legal Profession Programs.
LEARN MORE ABOUT HISTORY/PRE-LAW AT MARYWOOD »