Life Goes Swimmingly For Young MBA Grad
When Jason Patrick Lee graduated from the undergraduate accounting program in 2020, he became the youngest graduate in Marywood's history, earning his BBA degree when he was just 19 years old. Now, he's ready to become the youngest person to graduate from the MBA program at the age of 21.
Lee won't allow his legacy to be defined by age. His commitment and leadership are why people will recognize and remember him.
"I worked hard to be where I am today," said Lee. "I've been blessed to be in such a rare position, and that's something I don't take for granted."
It's worth mentioning that while Lee was wrapping up classes in the MBA program, he was also in his first year of a second graduate program, Higher Education Administration. One year from now, he will have three Marywood degrees.
For Lee, it's always been sink or swim. His collegiate journey began at the age of 14, when he enrolled in the accounting program (A.S.) at Asnuntuck Community College, located in his hometown of Enfield, Connecticut, in 2016. Jason admits this experience led him to develop at a faster rate than most people at that age, but it's not something he regrets. Then, in 2019, Jason transferred to Marywood University to pursue a Bachelor of Business Administration in Accounting. At 17 years old, it was easier to blend in among the other students than it was at 14. Jason admits that, despite being 200 miles from his family and friends, the Marywood community made him feel at home.
It's hard to believe he found time to be a four-year student-athlete on Marywood's Men's Swimming and Diving team, a New Student Orientation leader, and a facilitator of various groups, including campus ministry and student engagement. Even more unbelievable is the fact that he also completed graduate assistantships in Marywood's Career Development Center and the Athletics Department this past spring, while simultaneously interning at Lackawanna College's student life office.
"It was easy to embrace Marywood's welcoming culture," said Lee. "I'll cherish the time I've spent at Marywood. The early morning swim practices, not so much."
Lee's impact reaches beyond the wins and losses column. Over his four-year span with the team, Jason became a leader, according to Zack Haney, head coach of the Men's Swimming and Diving team. The Pacer coach, who doubles as the Aquatics Director, had first-hand experience with Jason's progression over the past three years.
"Jason is truly an unstoppable force of positivity," said Coach Haney. "Someone like Jason, with such an incredible impact, is truly rare, and I can think of no one better to lead our team."
Lee joined the Men's Swimming & Diving team at the start of his first semester at Marywood. Competing in breaststroke, Lee won two dual meets and earned 13 top-three dual-meet finishes, which earned Second Team All-Atlantic East honors. The following year, he recorded two first-place finishes and eight top-three finishes during dual meets, made the Atlantic East Honor Roll, and led the team in scoring at the conference championship. At the start of the 2021-22 season, Lee was voted team captain by his teammates, a title for which he is most grateful.
Jason Lee's success is no stroke of luck; rather, it is the result of what happens when someone commits themselves to what they're passionate about. He intends to pursue a career in student affairs and services in a higher education institution.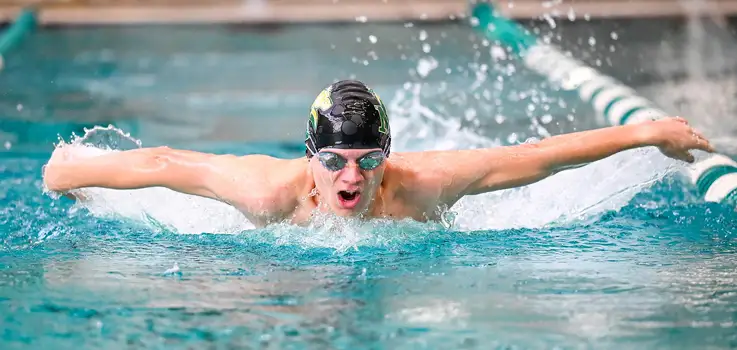 LEARN MORE ABOUT ACCOUNTING AT MARYWOOD »
LEARN MORE ABOUT GENERAL MANAGEMENT AT MARYWOOD »
LEARN MORE ABOUT HIGHER EDUCATION ADMINISTRATION AT MARYWOOD »