Campus Inclusion Proves Instrumental For Music Therapy Major
Meet Briana Caballero, a recent transfer student in the Music Therapy program at Marywood University.
What school did you transfer from and why?
Having attended a community college, Montgomery College, Rockville, Md., I knew that I would need to move on to a four-year college. I am currently a junior at Marywood University, and the transfer process was an exciting adventure. While researching for Music Therapy Programs, Marywood University came up as one of the top colleges for its Music Therapy Program. Many people aren't aware of it, but every single one of our Music Therapy students, who has graduated from Marywood, has passed the Music Therapy Board Exams.
Did Marywood live up to your expectations?
I fell in love with campus when I visited and knew that it was the right fit. Living away from home didn't come without some bumps in the road, however. For the first week that I was on campus, my roommate and I were afraid to go out of our rooms. That changed for both of us when we decided to get out and meet other students from clubs and organizations on campus. I joined the Ambassador team for Admissions, the Dance Team, Student Activities, Zeta Phi Delta Sorority, and I serve as the vice president of the Foreign Language Club.
Being an ambassador for Admissions has been so fulfilling. I love it so much and it's so much fun and interesting to talk to families—everyone has similar, yet different, concerns. Parents want to know if their child is going to be comfortable, if the professors are good, and the size of the classes. Sometimes families are hesitant to ask questions, but I know from being in their shoes that they are thinking those questions, so I offer the information.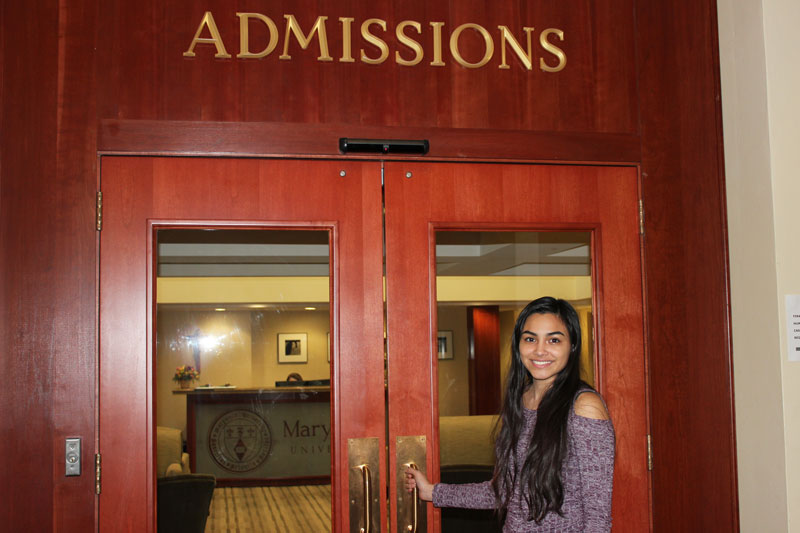 Can you tell us about an experience that you had that confirmed you chose the right university?
My roommate and I went to the dining hall together for dinner on one of the first nights that we were on campus. It was Mexican food day. I was excited about enchiladas being served. I happened to remark to my roommate that the tortilla was different than what my mom uses. The chef happened to overhear me, asked me what my mom uses, and if I could explain the difference, so I did. The next time that the dining hall featured Mexican food day, the enchiladas were exactly the way my mom makes them.
On another occasion in the dining hall, pasta was being offered however, the pasta had cheese on it, and I'm allergic to dairy. I happened to say to my friend that I couldn't eat the pasta because it had cheese on it, and immediately someone was there offering to make me my own plate of pasta without cheese. I've heard from other students with similar stories as well, so I know that everyone at the University is doing their best to accommodate student needs to make us as comfortable as possible.
Can you tell us about your experiences with campus life, both on and off campus?
As I mentioned, my roommate and I decided to put ourselves out there. You have to kick yourself out. I attended a transfer day when I was a freshman at Montgomery College. One of the Marywood students on the panel gave the advice to put yourself out there. It's one of the hardest things to do, but if you show up, you are taking the first step in broadening your experiences.
So, that's what I did. I joined everything. This year, I'm on the student activities staff. I have the opportunity to engage with freshman. While doing an event with them and encouraging some of the freshman to come out to events, or to try out for the dance team, I was surprised by the fact that each student that we engaged came out to the dance team tryouts. Knowing that you make an impact on someone is such a cool thing.
Outside of campus, I decided, along with my roommate, to explore the city of Scranton. We went to First Fridays, I go to Nay Aug all of the time, and discovered our favorite coffee house. When I began researching Scranton, Pa., the first thing that popped up was the St. Patrick's Day Parade. To experience it first hand was a bit of a culture shock, but a lot of fun.
What are your plans following graduation?
My baby plan, my dream, for my major is to get placement in a six-month internship at Mount Sinai. There's an excellent music therapy program there, but they only accept four students a year, so I will definitely have a back-up plan in place as well. While there are limited Board-approved Music Therapy internships, there are also many options. The department also assists with the process, but encourages us to look at options for ourselves.
Was there something that you were surprised to learn when you got to Marywood?
Something that surprised me, because I now live off-campus, is how nice it is to live in the dorms at Marywood. Having visited other schools and having seen dorm rooms at other colleges, Marywood's dorm rooms are excellent. To be able to control your own air conditioning/heating, along with the cleanliness of the dorms, is unmatched in my opinion.
One of the other things that my parents and I struggled with was if I would need a car while at school. Thankfully, my roommate had a car, and we were able to get out and explore. Now, with the new Shuttle Service, I think that getting out to various locations in Scranton will be easier for resident students. Prior to the shuttle service, I would take the bus or find a ride, but it's a nice option to have the shuttle at your disposal to get anywhere in the city and surrounding areas.