Live Your Faith Out Loud
at Marywood
Just like you, we take our faith seriously. Our Catholic identity is one of our core values, since our founding and IHM Sponsorship in 1915. That means we seek the pursuit of truth, goodness, beauty, justice, and common good as a university community.
There are endless ways to engage a faith practice on campus alone or as a group. See for yourself how many possibilities exist to live in service to your faith at Marywood!
A freshman History/Pre-law student and a member of Marywood's Men's Track and Field team, Scott proposed the idea of writing letters from Santa to the children and young family members of Marywood's faculty, staff, and alumni.
Read More
View all student profiles
Meet Your Campus Ministry Staff
Worship With Us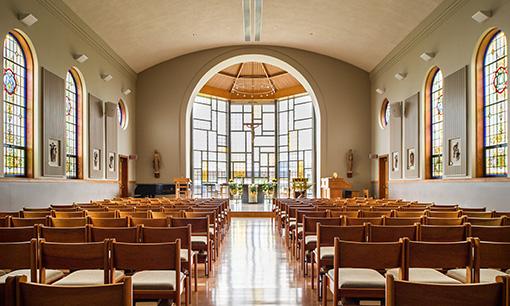 Sunday Mass
Every Sunday
7:30pm (during fall and spring semesters)
Marian Chapel in the Swartz Center for Spiritual Life