Alumna Proves a Winner for the USA Women's Rugby Team and Cisco Systems
Jan 09, 2022
Although Brielle played soccer growing up in Pennsylvania and later in high school, ironically athletics was the only program that she wasn't a part of while she was a student at Marywood University.
However, after she began working for Cisco in Raleigh, N.C. immediately after graduating, she was looking for ways to keep active and meet new people, so she joined the Title Boxing Club in Raleigh. It was through the boxing club that she met the coach of the Raleigh Venom Rugby team and became a member.
The 2017 season is Brielle's favorite because the team placed second in the Nation for USA Women's Division I Rugby. She played Second Row (#4) and the Number eight Position (#8) for Raleigh Venom. "All of my pre-work, studying rugby, and practice paid off during the 2017 season. I saw a personal improvement in my performance.," Brielle said.
Always looking for ways to improve personally and professionally, Brielle made the decision to put rugby on hold so she could pursue an Executive Master of Business Management Administration degree and continue to work at Cisco.
Brielle's passion for Marywood University and for rugby continue to be a central focus for her, so when presented with an opportunity to support both her alma mater and a sport that she loves, she didn't hesitate to say yes. "I was over the moon that Marywood decided to start Men's and Women's Rugby teams! It truly is a flourishing sport in 2017 and 2018, and such a great asset to bring to the Marywood Community." Brielle said. She will assist the Ruby Coach at the Collegiate Rugby Championship (CRC), in Philadelphia, Pa.
"I am ecstatic to assist the Coach in recruiting for the Marywood Pacers. This CRC event in Philadelphia, June 3rd and 4th, 2018, will be an ideal spot to promote Marywood University and everything we stand for! We will get a chance to talk with high school students and spectators interested in rugby and who are applying to universities in the Pennsylvania area.
When asked what she feels are some of the misconceptions about rugby, Brielle said, "Many people, especially my parents, fear that you might suffer a severe injury, especially when you are new to the sport. I can confirm this is incorrect. With Marywood creating a new team, I guarantee the coaching staff teach the basics step-by-step and build up the players to the ideal performance they are seeking." When Brielle first began playing Rugby, she was taught the "correct form in a scrum, how to tackle without getting hurt, and how to run successfully," she continued.
Brielle graduated from Marywood University with a bachelor of arts degree in communication arts, focusing in digital media and broadcast production, and minored in business. Brielle was accepted into both the master of arts and master of business administration programs at Marywood but decided to put those goals on hold to accept a position in Raleigh, N.C. with Cisco Systems.
Working for Cisco Capital, Brielle maximizes customer's investment dollars while creatively implementing financial solutions for Cisco Innovations to meet the unique needs of her customer. Some of her Enterprise customers include MetLife, ADP, Goldman Sachs, Liberty Mutual, and Bloomberg.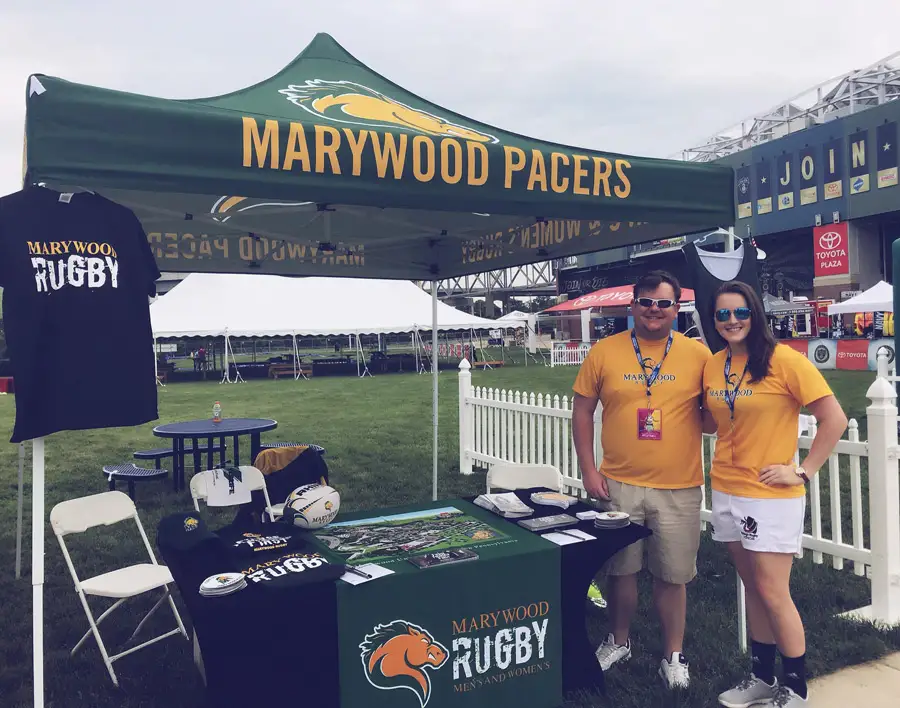 Brielle credits Marywood for thoroughly preparing her for her current position. "The University emphasizes the importance of the mission in every student through various leadership opportunities and a hands-on learning approach. I'd have to say the most significant part of my Marywood degree was empowering me to network and connect with alumni and ultimately meet one of my greatest mentors in corporate America. This ingenuity has helped me become the leader I am today, and I cannot thank the faculty, staff, and administrators enough for being great motivators," Brielle said.
LEARN MORE ABOUT FILM, TV, AND DIGITAL PRODUCTION AT MARYWOOD »