Alumna Makes Major Leadership Gift
Barbara Sowinski, a Northeastern Pennsylvania native, a longtime resident of the Towanda area, and a Marywood graduate, has made a substantial leadership gift to Marywood University to support and enhance the Liberal Arts Center. The million dollar contribution, which will establish the Barbara Sowinski Welcome Center, located in the Admissions area of the Rotunda in the Liberal Arts Center, will support needed physical renovations and enhancements to the nearly 100-year old campus facility. Sowinski's gift will have a lasting impact, benefitting the Marywood community for generations to come.
Built from 1922-1923 and dedicated in 1924, the Liberal Arts Center is one of Marywood's most iconic structures, featuring a Rotunda that is 72 feet in diameter, just eight feet smaller in size than its nearest domed competitor, the Rotunda of the U.S. Capitol Building in Washington, D.C. In the 1930s, the interior walls and dome of the Rotunda were formally decorated with murals painted by commissioned artist Gonippo Raggi. This magnificent space, with its aesthetic and historical significance, was a driving force behind Sowinski's gift, appealing to her deep desire to leave a beautiful family legacy in Northeastern Pennsylvania.
As an honor student at Scott High School, Montdale, Sowinski wanted to be a concert pianist. Not having the funds to study at Marywood at that time in her life, she instead worked in a series of jobs in various cities before joining United Airlines in Chicago and traveling the world. After studying drama at Northwestern University, she pursued an acting career in Manhattan, where she studied under some of the best professionals of the time. Following her recovery from a serious illness, she earned her Bachelor of Arts degree in Psychology from Hunter College. Sowinski then worked as a sales representative to banks in a six-state Midwest territory, as a sales representative to hospitals in New York, California, and Nevada. During these years, she continued classes at colleges along the way and traveled abroad, always viewing learning as a lifelong experience.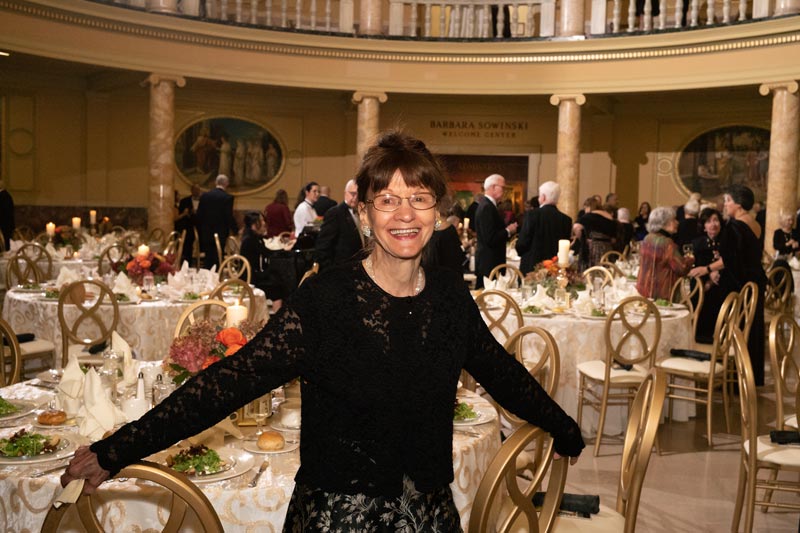 Following her retirement from business, Sowinski was ready to capture the creative spirit that had lurked within her all those years, diving into the art scene with enthusiasm, in addition to buying a 65-acre farm in Bradford County to begin "phase two" of her life. She attended art schools, exhibited regionally and nationally, painted on location globally, was a museum docent, workshop instructor, and juror. Sowinski's passion for art accelerated at Marywood, where she earned a Master of Arts degree in Art in 2000.
"Art has been such a satisfying part of my life, Sowisnki said. "It's been a wonderful life."
Sowinski's love for beauty and art, combined with her desire to remember her roots and celebrate her lifelong journey is reflected in her substantial leadership gift to Marywood University. She has fond memories of her early Dickson City days with the Witko and Sowinski families, her student days at Marywood after retirement, and, most of all, her satisfaction of witnessing the progress Marywood has made during her lifetime.
Join us as a supporter of the EMPOWER Campaign and help provide opportunities to future generations.