Annual Support Takes Students Around the World
While annual support begins at home at Marywood, students can utilize these funds to facilitate learning experiences around the globe. One international opportunity available to students in the School of Business and Global Innovation was the opportunity to participate in X-Culture Global Business Week in Lubin, Poland from July 12-19, 2023. X-Culture is an international business plan competition in which students compete on teams composed of other students from around the world on real-life projects, set up by companies seeking to enter international markets. Each year more than 10,000 students participate in X-Culture from over 400 institutions around the world. The top 150 students are invited to participate in the X-Culture international symposium annually.
Michael Romano '24, a Business Management major from New Jersey, was one of the talented Marywood students invited to participate in this prestigious event. For Michael, annual support helped to turn this trip from a dream into reality.
"I could not be more thankful," said Romano. "When switching majors at Marywood and entering the School of Business, I never could have expected that two years into the program I would be traveling to Poland to proudly represent Marywood at an international business symposium and business consulting competition. When I inquired about the trip, I thought it would be difficult to attend due to costs, but I was blessed to find out that Marywood would use donor funds to help sponsor our trip to Poland in order to represent the school. Without this generous contribution, my successful trip to Europe would not be possible."
Thanks to critical annual support funds, Romano, and his fellow classmates selected to participate in the competition, were able to embark on a weeklong trip that granted them exposure to new cultures and hands-on international business experience. The students traveled to Polish job sites to survey and analyze market trends as well as interact with business leaders from around the world.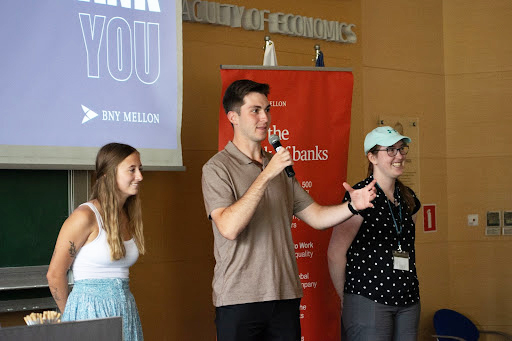 Michael Romano Presenting at X-Culture
Competing against six other teams, Romano and several Marywood classmates formulated a unique market expansion strategy for Polish medical disinfectant and cleaning company Medisept. The company was so impressed by their strategy that they were selected as challenge winners and their ideas will be implemented in Medisept's business operations over the next five years. Classmate and business administration major Gabby Troch '24, also crafted a winning marketing strategy in her team's division, further demonstrating Marywood students' business prowess at international levels.
Annual support helped Romano travel to the competition, and he credits his robust education as helping him win it.
"This truly was a trip that I will never forget," said Romano. "I gained lifelong skills and earned memories that will last a lifetime. The hard work and skills I learned at Marywood, which specialized around sincere communication, cultural awareness, and vast business knowledge, helped me accomplish this high achievement."
This one week immersive experience is something these future business experts will carry with them far beyond their graduation from Marywood. Annual support meets students' immediate needs as well as creates a strong foundation to enhance the student experience and produce well-rounded graduates eager to pave their way in the workforce.
Join us as a supporter of the EMPOWER Campaign and help provide opportunities like this to future generations.