More than five decades since she first stepped foot on campus, Mary Howard '23, is proud to be able to finally call herself a Marywood alumna. She graduated in May 2023 with a degree in Master of Business Administration, but her Marywood journey first began in 1964 when she enrolled to study Elementary Education. Though Mary returned home to Long Island to complete her degree, she never stopped thinking about her would-be Class of 1968 classmates. Throughout the intervening years, the spirit of Marywood continued to call to her through her accomplishments in life and in 2022, Mary decided to answer it.
Despite her long-standing love for Marywood, Mary's decision to enroll to study Elementary Education was actually her parents' decision. Her sister, Elizabeth Joanne (Betty Jo), was studying at the time to become a Sister in the Immaculate Heart of Mary Congregation. Familiar with the school and area, Mary's parents wanted her to receive an education somewhere safe and reputable. They were also adamant that, despite Mary's desires to study journalism or law or French, Mary should continue to study Spanish and obtain a teaching degree, so that she could always have an independent career to support herself.
Looking back at the trajectory of her life, Mary expresses a deep gratitude for her parents' wisdom. Her father always told her, "You should never, ever start something that you're not 100 percent certain you're going to finish." By returning to Marywood to earn her MBA, Mary's dedication, tenacity, and dare to keep dreaming honors her father's sage advice.
Unsurprisingly, Mary excelled as a teacher; however, it wasn't to be her occupation for long. Fulfilling a lifelong dream, Mary embarked on a jet-setting career with Pan American World Airways, requiring her to use her Spanish-language skills. She was promoted to Purser, Recruiter, and then Senior Recruiter around the world within the first five years of her employment.
Always pushing herself, she aspired to become the first female Vice President of the company. This aspiration led her to enroll in an MBA program at Long Island University. Midway through, Mary took a break from classes and retired from flying to utterly dedicate herself to being a wife and mother, filling any ounce of spare time by volunteering her time and talents for various boards and organizations. Never one to sit still, she later went on to graduate top of her class from culinary school and open her own business– Petite Treats– a French confectionery in Stamford, CT.
Mary's father first taught her perseverance, but Mary's husband, Gerald (Gerry) Howard encouraged her to finish her MBA throughout the entirety of their 34-year marriage. After acting as his loving caregiver, when her husband passed away in 2021, Mary was faced with an incredible loss. It was finally the right time for her to return to Marywood and leave triumphant with a degree in hand.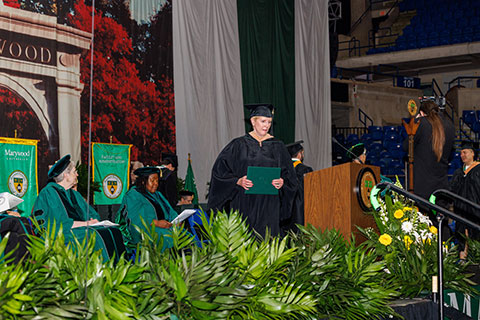 Drawing on her business background in entrepreneurship, Mary was well-prepared to undertake the degree program. Though Mary was worried about all the technological advancements in education since she last enrolled, such as Zoom, Brightspace, and Excel, she tackled them with typical grace under pressure. She credits Dr. Arthur Comstock and Dr. Christopher Speicher as being hugely influential during her time in the program, encouraging her natural talents and telling her to keep calm and take the complicated financial planning textbooks one chapter at a time.
To anyone considering coming back to Marywood after a long time away, Mary offers the assurance that, despite how far Marywood has advanced and continues to evolve, the very essence of the school has not changed, and that its very soul is still intact.
"Knowledge, of course, comes from learning, but wisdom comes from God. Marywood's Catholic foundation was necessary for me as a practicing Catholic," Mary says about her return. "I left this faith-filled community in 1966 and returned to the same in 2022."
Upon her first semester back at campus, Sister Mary Persico's inspiring Invocation Mass reassured Mary that Marywood was here to welcome her with open arms and to support her spiritually as well as academically. This sentiment remained throughout the entirety of her studies here.
Though some might think that Mary would take some well-earned time off to relax and celebrate the momentous achievement of finally attaining her MBA, she is already planning to see just how far a Marywood degree will carry her. She may still be deciding between law school or flying lessons, or perhaps some third adventure yet to be determined, but one thing is for certain: for Mary, getting to finally call herself a Marywood alumna is a dream come true.