Call the Shots with a Multimedia Communication Degree in Film, TV, and Digital Production
If you are interested in a digital production degree, look no further. Our program is designed to give you the versatile skills and knowledge you need to work in television, film, radio, and online media, as well as to work in digital audio and video production within these industries. With a 13:1 student to faculty ratio, you get the attention necessary to truly become a digital media production master.
Marywood's bachelor's degree program in Multimedia Communication covers a wide range of skills from #DayOne and prepares students for careers in film, TV, media management, production, health, or corporate communications. Get the hands-on experience you need by working at Marywood's on-campus radio station, VMFM-91.7,TV-Marywood, or The Wood Word.
VMFM-91.7
TV-Marywood
The Wood Word
PRSSA
Learn the versatile skills and knowledge you need for this specialized field
Top Employers
Motion Picture/Film Industries
Media/News Companies
Social Media Companies
Advertising/ Marketing Agency
Top Career Paths
Cinematographer
Production Designer
Film Producer
Film Editor
Dig Deeper Into the Program Details
Undergraduate Admissions Requirements
Completed application
Official transcripts
Letter of recommendation
Official SAT and/or ACT test scores (Marywood is test optional)
Essay (optional)
Multimedia Communication
201 Morgan Road
Map & Directions
Located in the Learning Commons, the Center for Multimedia Communication is a state-of-the-art training ground for future communication professionals. The center includes provides a variety of media tools that can be used necessary to publish an online newspaper; direct, product, shoot, or edit video and audio programming; create and publish a PR newsletter; work as on-air television or radio talent; create virtual sets; produce short films; manage social media accounts; broadcast live sporting events; and much more.
Learn More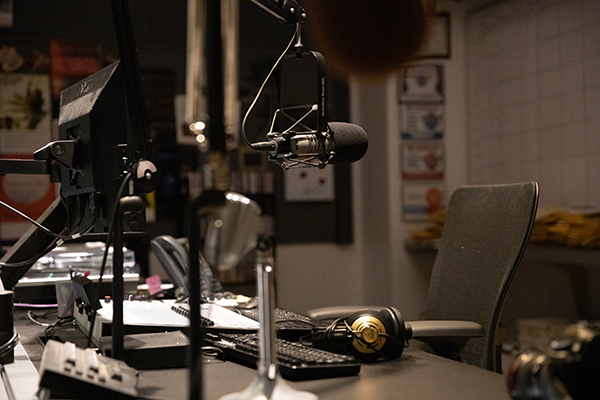 Map & Directions
VMFM 91.7 is Marywood University's student-run radio station, located in Marywood University's Learning Commons on the Terrace Level. For nearly two decades, VMFM has been named "Best College Radio Station" in the area and is only commercial-free alternative radio station in northeast Pennsylvania. 
Learn More
80+ opportunities for you to find the right fit with 50+ undergraduate degrees and 30+ graduate and certificate courses.
From #DayOne, Marywood is here for you each step of the way.
Request Information
Loading...
Latest Program News & Events