Become an Expert in the Science of Medicine with a Medical Laboratory Science Degree
With laboratories across the nation facing shortages, there has never been a better time to focus your studies in Medical Laboratory Science. This is a great career choice, especially if you enjoy hands-on work, multitasking, and devising solutions to intricate or perplexing clinical problems in diverse medical settings – from physicians' offices and clinics to pharmaceutical and biotechnology firms.
Medical Laboratory Science Degrees
At Marywood, choose your preferred path of study from two options:
Spend three years at Marywood fulfilling the University's requirements and those of the National Accrediting Agency for Clinical Laboratory Science (NAACLS), with the fourth year spent in an accredited, affiliated hospital program.
Complete a B.S. degree in Biology, meeting the necessary prerequisites, and then apply to affiliated schools of medical technology approved by the Board of Registry and/or NAACLS.
Top Employers
Hospitals
Medical Laboratories
Clinical/ Doctor's Office
Research and Development Firms
Top Career Paths
Radiology
Neurology
Physician
Pediatrician
Dig Deeper Into the Program Details
Undergraduate Admissions Requirements
Completed application
Official transcripts
Letter of recommendation
Official SAT and/or ACT test scores (Marywood is test optional)
Essay (optional)
The Center for Natural and Health Sciences (CNHS) is equipped with seven large teaching laboratories.
laboratory space for teaching labs, equipped with ductless fume green hoods

an environmental wet laboratory/greenhouse

five dedicated research laboratories

state-of-the-art anatomy and physiology laboratory houses virtual dissection Anatomage table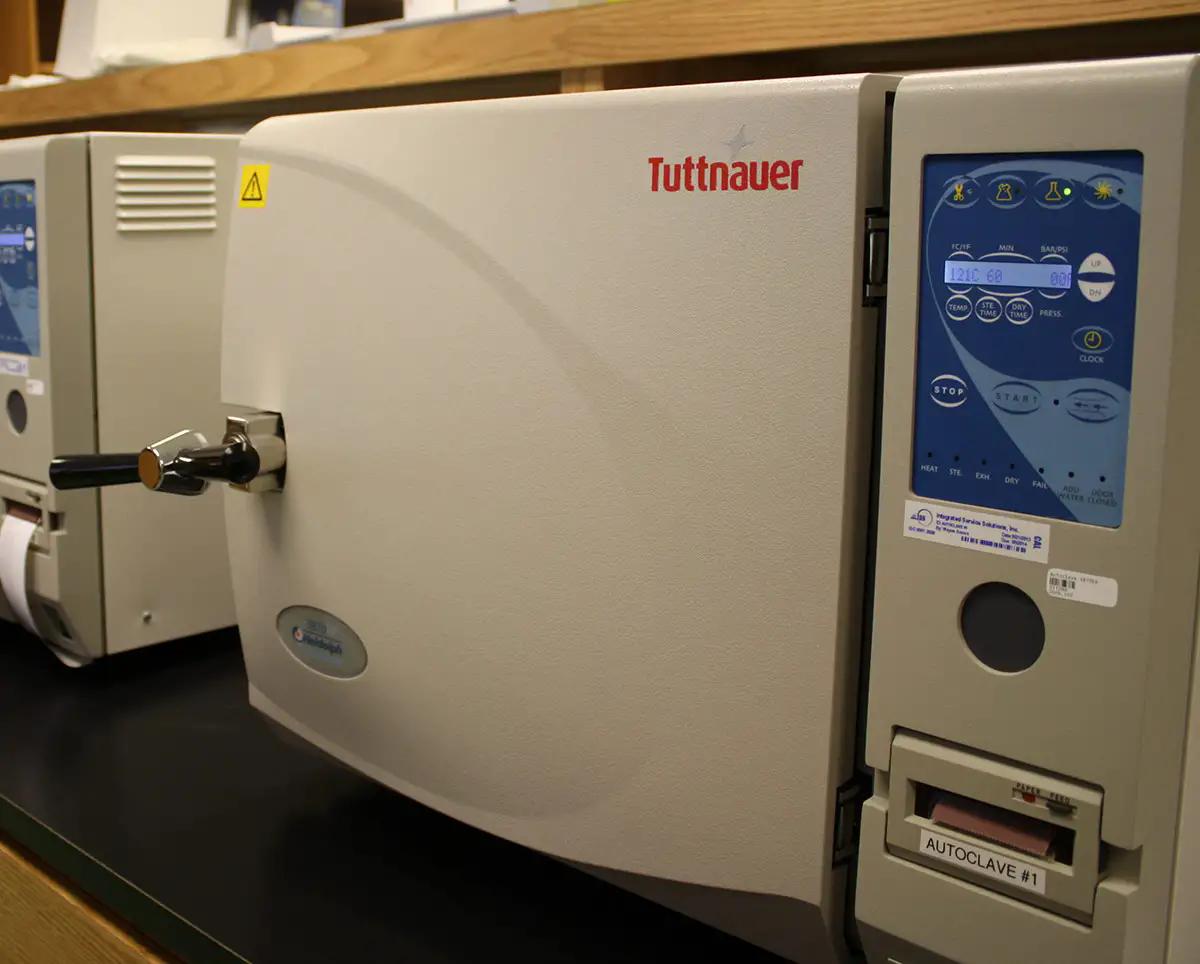 Autoclaves Autoclaves are pressure chambers that sterilize equipment, perform scientific experiments, or carry out industrial processes using high pressure steam.
---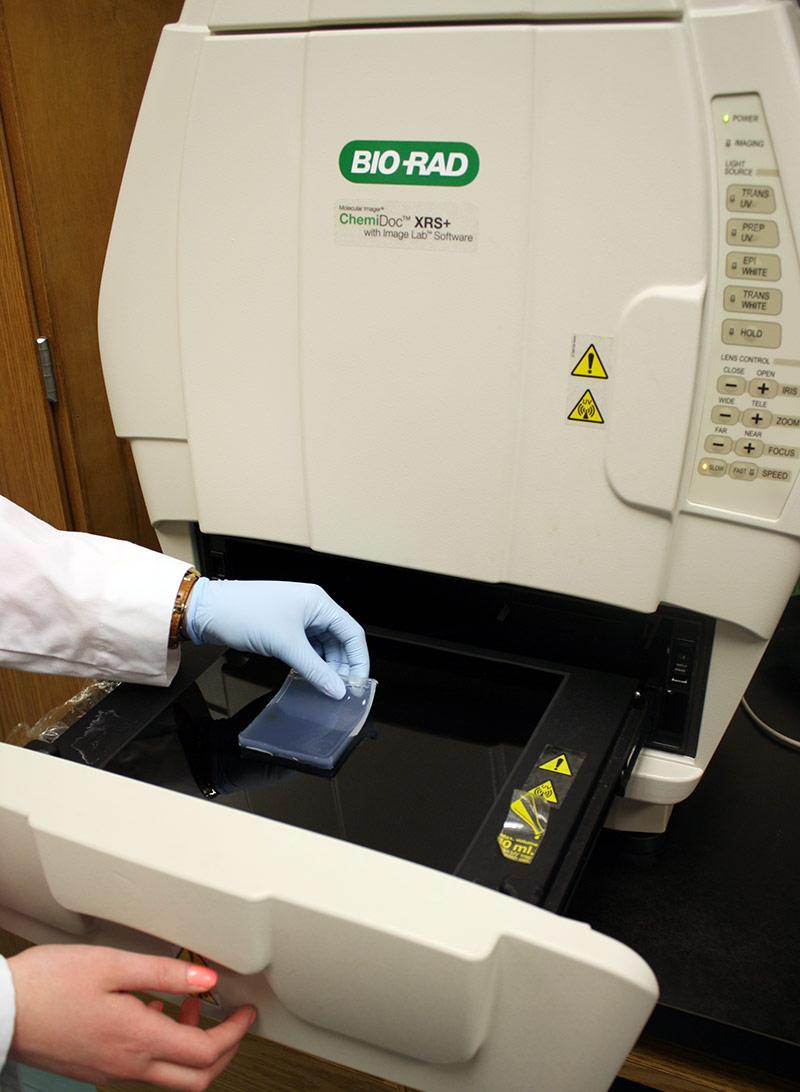 Gel & Blot Imaging System The ChemiDoc XRS+ System features high-sensitivity detection for a wide range of methods including fluorescence and densitometry.
The ChemiDoc XRS+ system is based on CCD high-resolution, high-sensitivity detection technology and modular options to accommodate a wide range of samples and support multiple detection methods including fluorescence, colorimetry, densitometry, chemiluminescence, and chemifluorescence. The system is controlled by Image Lab™ software to optimize imager performance for fast, integrated, and automated image capture and analysis of various samples.
The system accommodates a wide array of samples, from large handcast polyacrylamide gels to small ReadyAgarose™ gels and various blots. The system is an ideal accompaniment to PCR, purification, and electrophoresis systems, enabling image analysis and documentation of restriction digests, amplified nucleic acids, genetic fingerprinting, RFLPs, and protein purification and characterization.
---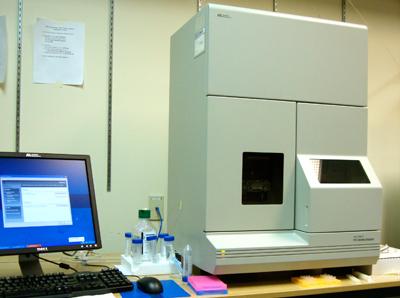 Genetic Analyzer DNA Sequencing machine
---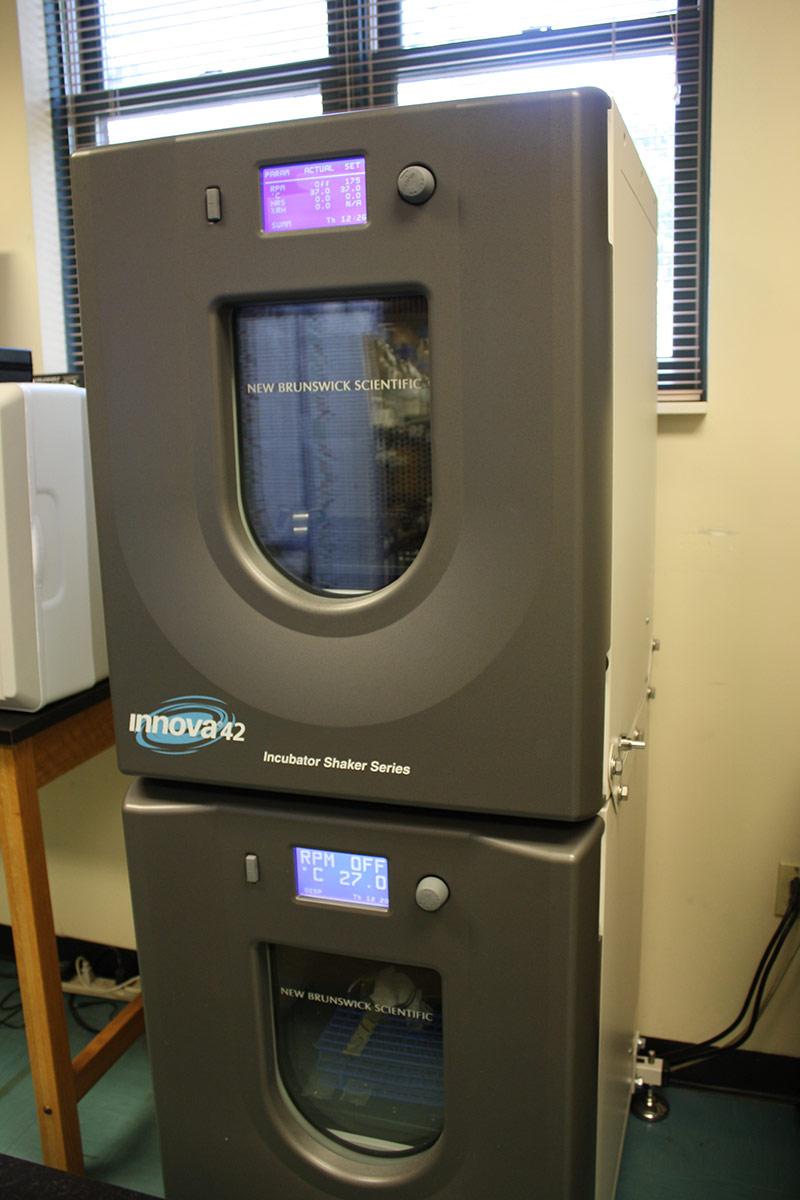 Incubator Shakers Innova 42 stackable incubated shakers provide broad temperature capabilities for culturing a wide variety of organisms in flasks up to 3 L
---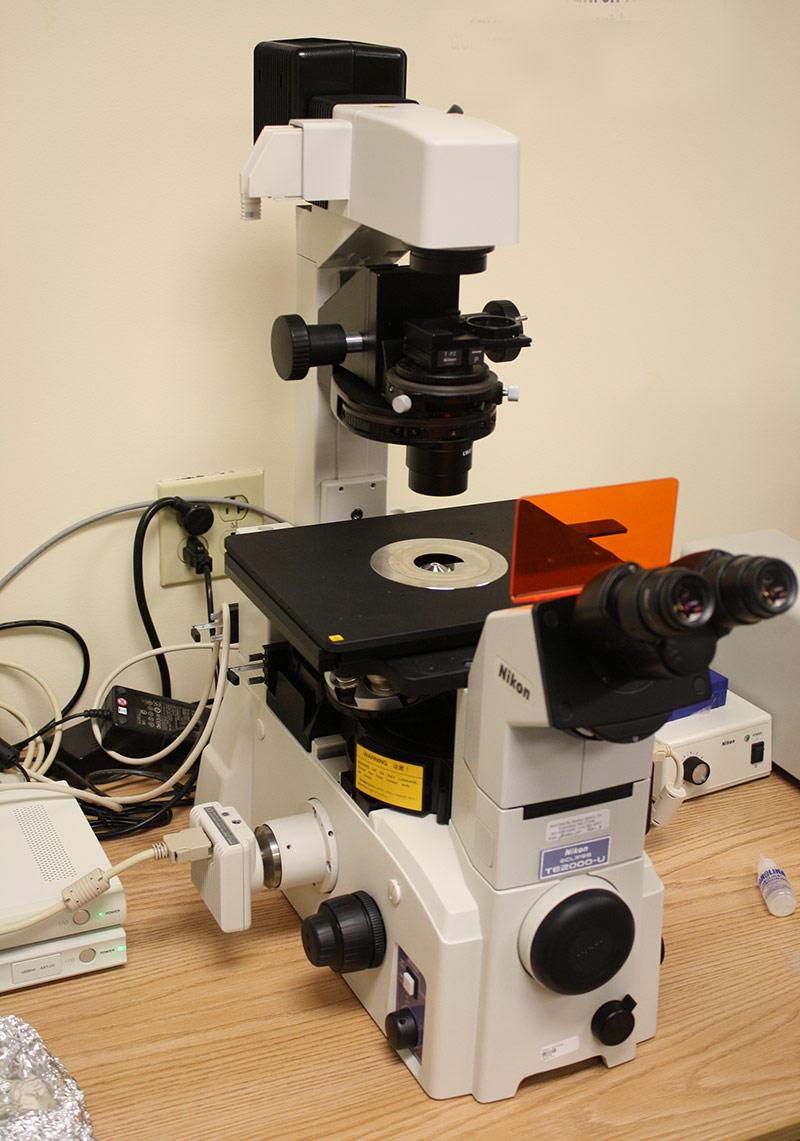 Inverted Fluorescent Microscope Nikon TE 2000U Inverted Fluorescent Microscope with Normarski D/C components and digital imaging capabilities.
---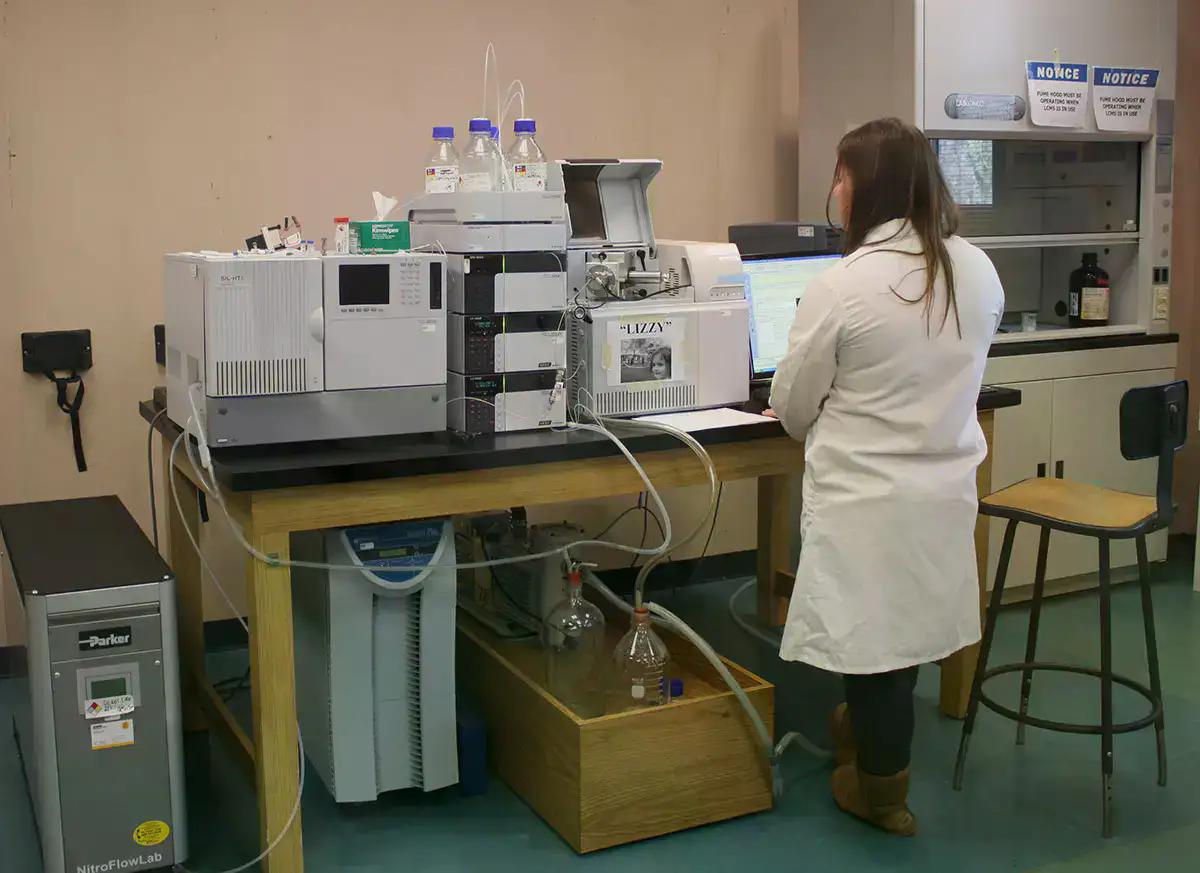 Liquid Chromatography Mass Spectrometer (LC-MS) Used in microbiology, molecular biology, proteomics, and drug testing, liquid chromatography mass spectrometers can be used for microorganism detection, protein sequencing, analysis, and research. The LC part separates the sample into its components, which are ionized and sent through the mass spectrometer for identification.
---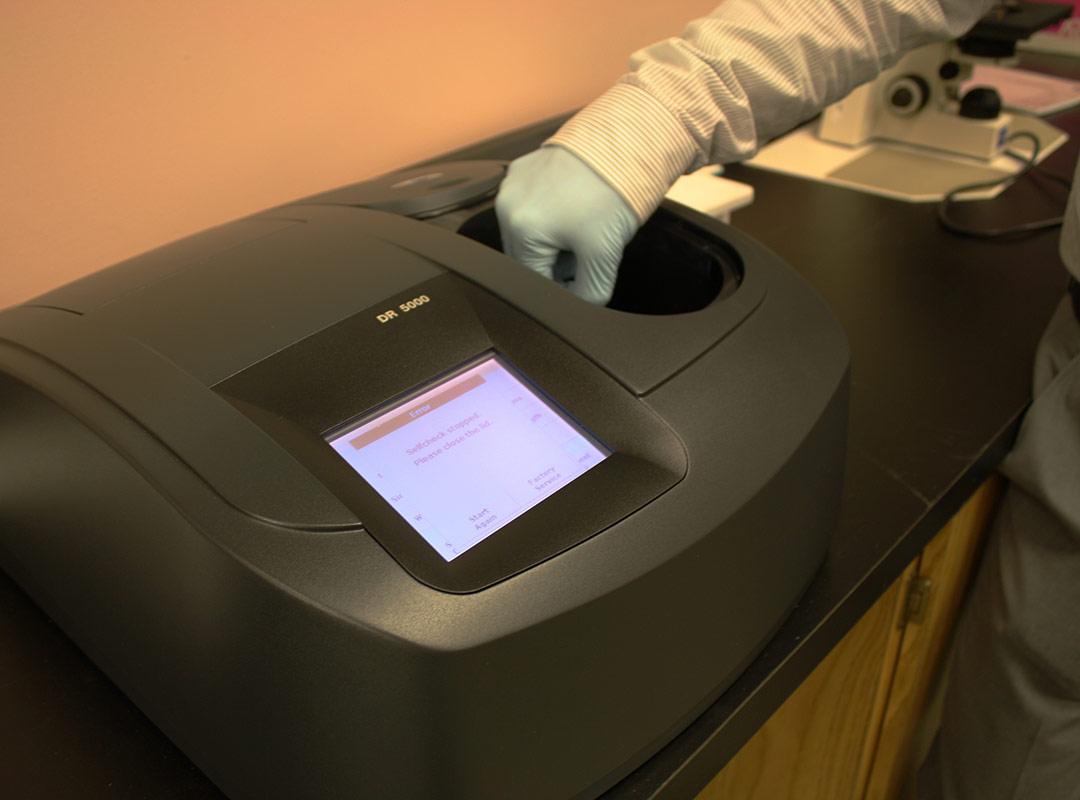 Spectrophotometers The spectrophotometer is an instrument that can be adjusted to illuminate a sample with a specific wavelength of light. The spectrophotometer then measures the amount of light energy that is absorbed or transmitted by the sample.
The Hach DR 5000 UV-Vis Laboratory Spectrophotometer offers a broad range of water analysis methods with more than 240 pre-programmed tests.
---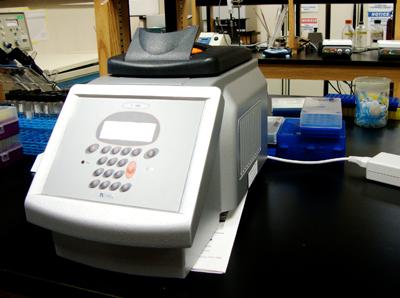 Thermal Cycler The thermal cycler is a laboratory apparatus most commonly used to amplify segments of DNA via the polymerase chain reaction.
---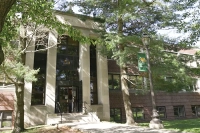 206 Morgan Road
Map & Directions
The Center for Natural and Health Sciences contains various science laboratories, computer labs, the 100-seat Comerford Theatre, and various classrooms. Classrooms for our Math and Computer Science, Science, Nursing, and Public Administration programs are in this building.
Learn More
|
Take a Virtual Tour
An affordable education is possible at Marywood.
VIEW SCHOLARSHIP AND FINANCIAL AID INFO
Lab Assistantships
Qualified Science majors (QPA of at least 3.0 is required) are needed during the academic year to serve as laboratory assistants. Each laboratory assistant works in a specialized laboratory (Chemistry, Biology, Physics, Microbiology, etc.) under the direct supervision of the Science Laboratory Manager. Duties will include:
Setup up and cleanup of teaching laboratories

Pro

cessing of waste

Inventory

Assisting lab

instructor
Other duties as assigned by the Science Laboratory Manager



The position of laboratory assistant is a valuable experience, since it provides an opportunity to gain

knowledge and skills beyond the classro

om setting.

Laboratory assistants are selected on the basis

of merit by the Laboratory Manager and Department Chairperson.

A major QPA of at least 3.0 is

required to retain a lab assistant position.
How to Apply for a Lab Assistant Position
The Work Study Program supports many of the available lab assistant positions. Work Study must be applied for through the Marywood University Human Resources - Student Employment Web Page. Follow the Steps to Make it Happen. Human Resources (HR) contacts you with your eligibility status for a work study position. Once you hear from HR, please contact the Science Laboratory Manager to inquire about the interview process
The Science Department may provide financing for a limited number of qualified students (major QPA of at least a 3.0 is required) who are ineligible for the Work Study Program. Interested students must apply through the Marywood University Human Resources – Student Employment Web Page. Follow the Steps to Make It Happen. Human Resources will contact you concerning your ineligibility for work study employment. Please contact the Science Laboratory Manager to inquire about the interview process for a non-work study position.
For detailed information regarding laboratory policies, please consult the Science Department Handbook.
Siemens offers Scholarships
Siemens has partnered with ASCP to offer a variety of scholarships for students enrolled in NAACLS-accredited Medical Laboratory Scientist (MLS), Clinical Laboratory Scientist (CLS), Medical Technologist (MT), Medical Laboratory Technician (MLT), or Clinical Laboratory Technician (CLT) programs.
Scribe America

The Emergency room at Wilkes Barre General Hospital is hiring ER Scribes. Various shifts available. Paid classroom and clinical training. 20-40 hours a week, part time, no benefits. Hourly wage is $8-$10. Extremely flexible scheduling. Learn more at scribeamerica.com.
View MORE Scholarship and Financial Aid Info
View Tuition Rates
80+ opportunities for you to find the right fit with 50+ undergraduate degrees and 30+ graduate and certificate courses.
When planning for your fall, summer, and spring lab sections or research laboratories keep the following in mind:

1. Outlines, syllabi, and material needs/waste lists per session are due to the Lab Manager no later than 6 weeks prior to the start of the semester. The Course Syllabus Template will detail items that must be in each syllabus. Please email your syllabi to the Science Department Administrative Assistant prior to the start of each semester.
2. Class and Laboratory Cancellations -In the event an instructor is unable to conduct their class and/or laboratory, they must email the students (can be done through Brightspace), Department Chairperson, Laboratory Manager (if applicable), Dean's Secretary and Science Administrative Assistant. It is also the Laboratory Instructor's responsibility to make arrangements (if possible) to have another part-time or full-time Science Faculty member cover their laboratory session when they are not able.
Class and Laboratory Attendance Policy -Students are expected to attend all classes and laboratory sessions (including laboratory check in and check out). On rare occasions and only for sufficient reason, students may be granted an 'excused absence.' Course attendance requirements are clearly specified in each faculty member's course and laboratory syllabus. Unexcused absences may affect a student's final grade.
3. All Faculty, Lab Instructors, andLaboratory Instructional Assistants must follow the Attendance Policy Procedure online for the Registrar's Office. The Registrar's Office will email every instructor with the due dates for the Faculty Attendance forms to be submitted online.
4. All Faculty, Lab Instructors, and Laboratory Instructional Assistants must also follow all procedures for submitting grades.
5. The Standard Operating Procedure for Purchase Orders for Laboratory and Research Supplies.
6. Material needs lists for the semester must be broken down per lab session and must include volumes or number of items needed per student, student group, or section. An example is linked here.
Anticipated waste products with volumes must be listed. This will ensure adequate planning for waste collection, storage, and disposal. Questions concerning waste should be directed to the Lab Manager or the Chemical Hygiene Officer.
If Special Standard Operating Procedures (SOPs) and additional Personal Protective Equipment (PPE) is required for an experiment, it must be noted.
7. All science laboratory safety concerns and questions should immediately be brought to the attention of the Lab Manager.
8. The Lab Manager is the direct supervisor of all lab assistants. All questions and issues involving lab assistants should be brought directly to the Lab Manager.
9. Laboratory access is granted at the discretion of the Laboratory Manager and Department Chairperson. Please contact the Laboratory Manager to request lab access.
10. All Physical Plant Work requests and OIT Help Desk tickets regarding laboratory issues must be submitted by the Laboratory Manager. Please contact the Laboratory Manager immediately regarding any laboratory computer or maintenance issues. All issues with laboratory equipment (including computers/printers) and laboratory maintenance should be brought to the immediate attention of the Laboratory Manager. If the Laboratory Manager is not available the Department Chair must immediately be contacted.
11. You may reserve the Science Classroom located in CNHS # 103 by emailing the Science Department Administrative Assistant.
Request Information
Loading...
Latest Program News & Events