Gratitude with Attitude with a Bachelor's Degree in Hospitality Management
A varied and powerful industry, Hospitality Management offers a variety of career paths, from financial management, marketing, event management, tourism, restaurants, and so much more that leads to leisure and customer satisfaction. The growth trend of the hospitality industry is set to become the largest global employer, with travel and tourism alone offering more than 150 million jobs over the next decade.
A Bachelor of Business Administration in Hospitality Management prepares students to perform managerial-level jobs in enterprises and institutions of the service sector that have lodging and/or food service components.
Students will earn 64 credits in Business and in Nutrition in addition to their core classes.
Jobs in hospitality expected to grow over the next decade
Integrates marketing, finance, revenue management, foodservice, management, and customer service
The only 4-year bachelor of arts degree in Hospitality Management in Northeastern Pennsylvania
High profile internship opportunities
Top Employers
Food Service Manager
Hotel Manager
Event Planner
Travel Agent
Dig Deeper Into the Program Details
Undergraduate Admissions Requirements
Completed application
Official transcripts
Letter of recommendation
Official SAT and/or ACT test scores (Marywood is test optional)
Essay (optional)
McGowan Center for Graduate and Professional Studies
The McGowan Center is home to the School of Business and Global Innovation. The building has state-of-the-art classrooms and computer labs.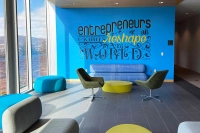 Map & Directions
The Entrepreneur Launch Pad (ELP), located on the third floor of the Learning Commons, fosters a climate of entrepreneurship that helps students across all academic disciplines to explore commercial opportunities based on their innovative business ideas.
Learn More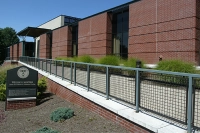 1201 University Avenue
Map & Directions
The McGowan Center for Graduate and Professional Studies, located on the corner of University and North Washington Avenues, contains classrooms and related clinical/professional space for Communication Sciences and Disorders, Psychology and Counseling, Education, and Business students. Market Marywood is also located here.
Learn More
|
Take a Virtual Tour
Morris K. Udall Scholarship
The Udall Foundation seeks future leaders across a wide spectrum of environmental fields, including policy, engineering, science, education, urban planning and renewal, business, health, justice, and economics. The Foundation also seeks future Native American and Alaska Native leaders in public and community health care, tribal government, and public policy affecting Native American communities, including land and resource management, economic development, and education.
View Tuition Rates
80+ opportunities for you to find the right fit with 50+ undergraduate degrees and 30+ graduate and certificate courses.
From #DayOne, Marywood is here for you each step of the way.
Request Information
Loading...
Latest Program News & Events