Develop Your Business Career Strategy with a Business Management Degree
Determining how–and where–to prepare for your future business career is the first executive decision you'll make. Pursuing a Management degree at Marywood University can be a central part of your overall strategy. Our School of Business and Global Innovation prepares you to become an effective, successful business manager in areas that interest you—Sports, Hospitality, Health, and General Management.
Based on its "three pillars of excellence"–ethical leadership, industry-relevant skills, and entrepreneurship–the integrated curriculum within the School of Business and Global Innovation provides you with the required tools and training to succeed in the competitive business environment. You'll find supportive faculty with practical and academic knowledge of business, fascinating internship opportunities, and the foundation for a career in the business world of today and tomorrow. With connections to an array of outstanding corporations at the local, regional, and national levels, our program helps you get the real world experience necessary to distinguish you from other graduating college students. Business leaders are called upon to develop flexible, creative strategies for success in a competitive global economy. As a Marywood Business graduate, you'll be well prepared for managerial and administrative leadership through a broad-based business curriculum integrated with the liberal arts.
Whatever your individual goals, our 63-credit Management program will prepare you to contribute to the development of organizational structure, staffing requirements, planning, and handling labor relations problems, with courses like Managerial Decision-Making, Small Business Management, and more.
Tracks in Sports, Hospitality, and Health Management
Internship opportunities
ACBSP accreditation
Top Employers
Large Corporations
Non-Profit Organizations
Marketing Firms
Retail Facilities
Top Career Paths
Marketing Manager
General Manager
Operations Manager
Sales Manager
Dig Deeper Into the Program Details
Undergraduate Admissions Requirements
Completed application
Official transcripts
Letter of recommendation
Official SAT and/or ACT test scores (Marywood is test optional)
Essay (optional)
Business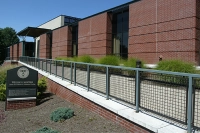 1201 University Avenue
Map & Directions
The McGowan Center for Graduate and Professional Studies, located on the corner of University and North Washington Avenues, contains classrooms and related clinical/professional space for Communication Sciences and Disorders, Psychology and Counseling, Education, and Business students. Market Marywood is also located here.
Learn More
|
Take a Virtual Tour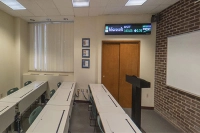 Map & Directions
The Wall Street West Financial Lab, created in 2008, is a real-time business lab in the McGowan Center. Complete with a constant stock ticker, the high-tech lab works hand-in-hand with the student-run stock portfolio, the Pacer Investment Fund.
Learn More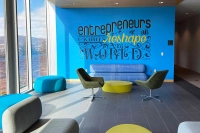 Map & Directions
The Entrepreneur Launch Pad (ELP), located on the third floor of the Learning Commons, fosters a climate of entrepreneurship that helps students across all academic disciplines to explore commercial opportunities based on their innovative business ideas.
Learn More
Morris K. Udall Scholarship
The Udall Foundation seeks future leaders across a wide spectrum of environmental fields, including policy, engineering, science, education, urban planning and renewal, business, health, justice, and economics. The Foundation also seeks future Native American and Alaska Native leaders in public and community health care, tribal government, and public policy affecting Native American communities, including land and resource management, economic development, and education.
View Tuition Rates
80+ opportunities for you to find the right fit with 50+ undergraduate degrees and 30+ graduate and certificate courses.
From #DayOne, Marywood is here for you each step of the way.
Request Information
Loading...
Latest Program News & Events