Enhance Student Success with a School Counseling Degree
Marywood's school counseling program prepares students to become professional PK-12 school counselors, who are certified/licensed educators with a minimum of a master's degree in school counseling, making them uniquely qualified to address all students' academic, career and personal/social development needs by designing, implementing, and evaluating a comprehensive school counseling program that promotes and enhances student success. Professional school counselors serve a vital role in maximizing student success. Through leadership, advocacy and collaboration, professional school counselors promote equity and access to a quality education and post-secondary options. They work with students individually, in small groups, and through classroom lessons. They collaborate with teachers, parents/guardians, and administrators.
A Master of Science degree in School Counseling provides skills and expertise in individual and group counseling, educational planning, and career development. It is accredited by the Council for Accreditation of Counseling and Related Educational Programs (CACREP) and meets the Pennsylvania Department of Education's requirements for PK-12 school counseling certification. We rely heavily on one-to-one interactions between students and faculty mentors. A professor will periodically review your progress and help you reach your educational goals.
Individual and group counseling competencies
Design/manage comprehensive school counseling programs
Apply leadership and advocacy skills
Hands-on experience, state-of-the-art facilities
Extensive Fieldwork Experience
Students in our school counseling program complete a 600-hour supervised internship in a real-world counseling setting [300-hours elementary (PK-8) and 300-hours secondary (9-12)]. You can choose the school(s) at which you would like to complete your fieldwork experience, and this invaluable, hands-on experience allows you to put into practice skills and knowledge learned in the classroom.
Upon degree completion, graduates:
Can apply for dual (PK-12) school counseling certification in Pennsylvania.

Possess all of the educational requirements for counseling licensure (LPC) in Pennsylvania.

Are

able to apply for any master's level counseling position, even if it is not within a school.
Top Employers
Public/Private PK-12 Schools
Gifted, Alternative, Cyber, & Faith-based Schools
Technical/Career Centers
Daycare Centers
Top Career Paths
School Counselor
Case Manager
Child Daycare Services
Educational Support Services
District Supervisor
Dig Deeper Into the Program Details
The Education Program is located in the The McGowan Center for Graduate and Professional Studies located on the corner of University and North Washington Avenues. This facility contains classrooms and related clinical/professional space.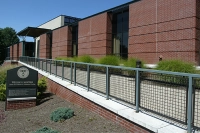 1201 University Avenue
Map & Directions
The McGowan Center for Graduate and Professional Studies, located on the corner of University and North Washington Avenues, contains classrooms and related clinical/professional space for Communication Sciences and Disorders, Psychology and Counseling, Education, and Business students. Market Marywood is also located here.
Learn More
|
Take a Virtual Tour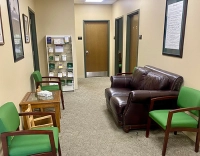 Map & Directions
The Psychological Services Center (PSC), located in Room 1009 in the McGowan Center for Graduate and Professional Studies, is a clinic and training facility. It serves the community as an outpatient mental health clinic that provides services to individuals across the life spectrum from young children to older adults. The entry of the PSC is privately located on the north side of the McGowan Center on Marywood's campus. The PSC is composed of several individual, couple, family, and group therapy rooms, as well as a reception area and waiting room.
Learn More
Fulbright Program
Sponsored by the United States Department of State, Bureau of Educational and Cultural Affairs, the Fulbright Program provides funding for students, scholars, teachers, and professionals to undertake graduate study, advanced research, university teaching, and teaching in elementary and secondary schools. The flagship international educational program sponsored by the U.S. Government, the Fulbright Program is designed to increase mutual understanding between the peoples of the United States and the people other countries.
View Tuition Rates
80+ opportunities for you to find the right fit with 50+ undergraduate degrees and 30+ graduate and certificate courses.
From #DayOne, Marywood is here for you each step of the way.
Learn More

About

School Counselors:
Request Information
Loading...
Latest Program News & Events