Prepare for a Future in the Growing Field of Financial Crime Investigation
Unique to northeast Pennsylvania, Marywood's new Financial Crime Investigation (FCI) program provides a solid foundation for students interested in accounting and criminal justice. Graduates of the Financial Crime Investigation program are qualified to pursue a number of career paths in financial examination, fraud examination, and private investigation within a variety of industries, including insurance, finance, and the state and federal government.
The Financial Crime Investigation curriculum focuses on a variety of topics such as auditing, business taxation, criminology, financial analysis, law enforcement, and white collar crime. Students who graduate with Financial Crime Investigation degree meet the accounting educational requirements to qualify for work in certain government agencies such as the IRS, FBI, and DEA, as well as in traditional accounting and criminal justice roles in public or private sectors.
The Financial Crime Investigation program will teach students how to:
Evaluate and effectively use financial and investigative technologies to identify, gather and communicate evidence of economic crimes
Integrate financial, legal and forensic perspectives when conducting investigations and preparing for related legal actions
Create and interpret financial information, identify abnormalities in that information and gather support for potential legal action
Develop investigative techniques and documentation to discover and prosecute economic fraud
Top Employers
Internal Revenue Service
Federal Bureau of Investigation
Drug Enforcement Administration
Public Accounting Firms
Top Career Paths
Criminal Investigator
Financial Crimes Investigator
Auditor
Financial Analyst
Dig Deeper Into the Program Details
Undergraduate Admissions Requirements
Completed application
Official transcripts
Letter of recommendation
Official SAT and/or ACT test scores (Marywood is test optional)
Essay (optional)
School of Business and Global Innovation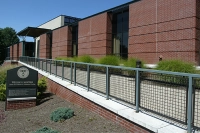 1201 University Avenue
Map & Directions
The McGowan Center for Graduate and Professional Studies, located on the corner of University and North Washington Avenues, contains classrooms and related clinical/professional space for Communication Sciences and Disorders, Psychology and Counseling, Education, and Business students. Market Marywood is also located here.
Learn More
|
Take a Virtual Tour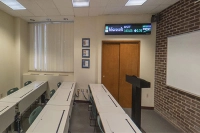 Map & Directions
The Wall Street West Financial Lab, created in 2008, is a real-time business lab in the McGowan Center. Complete with a constant stock ticker, the high-tech lab works hand-in-hand with the student-run stock portfolio, the Pacer Investment Fund.
Learn More
Morris K. Udall Scholarship
The Udall Foundation seeks future leaders across a wide spectrum of environmental fields, including policy, engineering, science, education, urban planning and renewal, business, health, justice, and economics. The Foundation also seeks future Native American and Alaska Native leaders in public and community health care, tribal government, and public policy affecting Native American communities, including land and resource management, economic development, and education.
View Tuition Rates
80+ opportunities for you to find the right fit with 50+ undergraduate degrees and 30+ graduate and certificate courses.
From #DayOne, Marywood is here for you each step of the way.
Request Information
Loading...
Latest Program News & Events