Investigate a Variety of Career Options with a Criminal Justice Degree
A Criminal Justice degree provides a solid foundation for the growing number of careers for law enforcement, probation and parole, corrections, security services, and criminal investigation.
For those who wish to enter the labor market upon completion of the criminal justice program, Marywood University provides excellent preparation for careers in law enforcement, criminal investigation, corrections, and probation, and parole.
Internships with local, state and national criminal justice agencies are available to qualified majors providing specific preparation for future employment.
Criminal justice students who wish to pursue further education in criminal justice, the program offers advanced standing in the Marywood graduate program in Criminal Justice, permitting qualified students to complete a master's degree in Criminal Justice in their fifth year of study at the University.
Only regional program with both undergraduate & graduate degrees
Solid foundation in Policing, Corrections, and Criminology
Internship opportunities
Top Employers
Federal Government
Law Firms
Police Departments
Local Government
Top Career Paths
Attorney
Judge
Police Officer
Criminal Investigator
Dig Deeper Into the Program Details
Undergraduate Admissions Requirements
Completed application
Official transcripts
Letter of recommendation
Official SAT and/or ACT test scores (Marywood is test optional)
Essay (optional)
Criminal Justice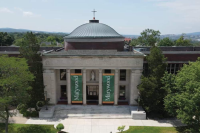 102 Morgan Road
Map & Directions
The Liberal Arts Center contains classrooms utilized by several programs, as well as the Office of Admissions and a variety of other administrative offices. It is also home to the iconic Rotunda and the NativityMiguel School of Scranton.
Learn More
|
Take a Virtual Tour