Lead the Way with an Online Ph.D. in Strategic Leadership & Administrative Studies
With an emphasis on applied and evidence-based research, the Ph.D. in Strategic Leadership and Administrative Studies (SLAS) offers students an interdisciplinary doctoral program designed for professional adults by accommodating their contemporary busy lifestyles, while also providing a cutting-edge, innovative, and cost-effective quality education. Our outstanding and experienced faculty, including Fulbright Scholars, uses dynamic teaching methods designed for learning adults and effective graduate studies.
Completely online with full- or part-time options.
Outstanding and experienced faculty, including Fulbright Scholars
Open enrollment throughout the academic year
Established in 1996, Marywood's doctoral program is completely online with an executive-type curriculum structured for the development of strategic leadership and administrative skills in interdisciplinary research-oriented doctoral studies.
Pathway to Complete Your Doctorate in Strategic Leadership and Administrative Studies at Marywood University
If you have achieved all but your Dissertation (ABD), the Ph.D. Program in Strategic Leadership and Administrative Studies at Marywood University offers you a path to complete your doctoral program without retaking or repeating the courses that you have already taken either at Marywood University or any other accredited university, and regardless of when you have taken these courses. With all the time, money, and efforts you have dedicated to completing these courses, why not take just one last step with us and get your well-deserved doctoral degree?
Marywood University offers a fully online program with 9 credits and 9 online dissertation credits (a total of 18 credits). This pathway is specifically designed for career professionals who are seeking to complete their doctoral studies and earn their Ph.D. without taking time off from their careers.
In as little as two years of study, you can add a "Ph.D." to your list of professional accomplishments.
Support your personal growth and satisfaction, as well as your career accomplishments and professional aspirations—apply today to earn your well-deserved doctoral degree from an accredited, reputable university.
Program of Study
SLAS 6002: Ethical Leadership (3 credits)
SLAS 6012: Pre-Dissertation Seminar (3 credits)
SLAS 6013: Qualifying Seminar (3 credits)
SLAS 7000: Dissertation (min of 9 credits)
Top Employers
Technology Companies
Consulting Firms
Automotive Manufacturers
Universities
Top Career Paths
Chief Executive Officer
Training/Development Manager
Business Professor
Education Administrator
Dig Deeper Into the Program Details
Master's degree from a regionally accredited college or university
Completed application
Essay
Official, sealed transcripts
Two or three letters of recommendation
The program is only 60 credit hours and consists of 15 courses, 2 seminars, and 9 dissertation credits. Up to 12 eligible master-level credits are considered for transfer.
Credit Transfer Policy
The Ph.D. program in Strategic Leadership and Administrative Studies (SLAS) accepts the transfer of qualified master-level credits to the program as electives. The following conditions must apply:
Up to 12 graduate credits (4 eligible courses) from an accredited institution can be transferred to the program.
A student must be

enrolled

in the program before applying for credit transfer and all credit transfer applications must be approved by the Program Director.
Transferred credits

must

be related to the program's field of study. Practicum, field-studies, internships, and clinical courses are not considered.
Grade of any transferred course must be B or higher.
All approved transferred credits will be accepted as electives.
Even though the program is online, for those that would like to connect in person, faculty is on camps for your needs. You also have access to all the services and campus amenities, so we hope to see you around campus!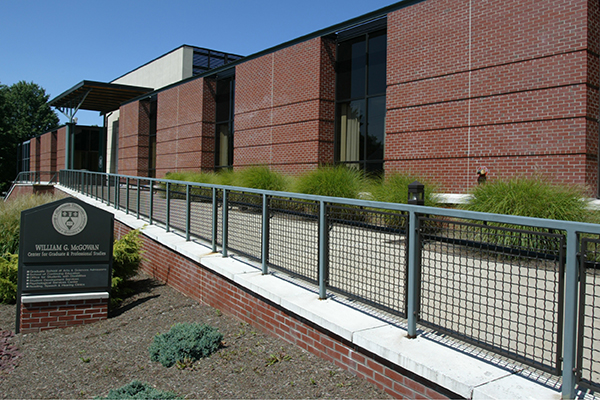 1201 University Avenue
Map & Directions
The McGowan Center for Graduate and Professional Studies, located on the corner of University and North Washington Avenues, contains classrooms and related clinical/professional space for Communication Sciences and Disorders, Psychology and Counseling, Education, and Business students. Market Marywood is also located here.
Learn More
|
Take a Virtual Tour
Fulbright Program
Sponsored by the United States Department of State, Bureau of Educational and Cultural Affairs, the Fulbright Program provides funding for students, scholars, teachers, and professionals to undertake graduate study, advanced research, university teaching, and teaching in elementary and secondary schools. The flagship international educational program sponsored by the U.S. Government, the Fulbright Program is designed to increase mutual understanding between the peoples of the United States and the people other countries.
View Tuition Rates
Teaching Faculty
Dr. Stanley Kania
Dr. Phil Jenkins
Dr. Christina Brundage
Dr. Lia Palimiter
Dr. Amy Paciej-Woodruff
Dr. Deborah Hokien
Dr. Matthew Caputo
Dr. Caroline Millen
Selected Dissertation Faculty
(Dissertation Committee Chairs, Committee Members, Dissertation Readers)
| | | |
| --- | --- | --- |
| Dr. Jennifer Barna | Dr. Stanley Kania | Dr. Karen Rich |
| Dr. Helen Battisti | Dr. Diane Keller | Dr. Patrick Seffrin |
| Dr. Joe Behun | Sister Angela Kim | Dr. Robert Shaw |
| Dr. Marie Bonavoglia | Dr. Monica Law | Dr. Adam Shiprintzen |
| Dr. Tammy Brown | Dr. Douglas Lawrence | Dr. Sunny Sinha |
| Dr. Christina Brundage | Dr. Alan Levine | Dr. Chris Speicher |
| Dr. Stephen Burke | Dr. Lloyd Lyter | Dr. Kielty Turner |
| Dr. Matthew Caputo | Dr. Lia Palmiter | Dr. Alex Vari |
| Dr. Arthur Comstock | Sister Joan McCusker | Dr. Bruce Wisenburn |
| Dr. Deborah Hokien | Dr. Caroline Millen | Dr. Amy Paciej-Woodruff |
| Dr. Lynn Hutchings | Dr. Tracie Pasold | Dr. Frances Zauhar |
| Dr. Phil Jenkins | Dr. LoriAnn Pajalich | Dr. Renee Zehel |
| Dr. Mona Griffer | Dr. Vijay Ramchandra | Dr. Mary Ann Zimmer |
80+ opportunities for you to find the right fit with 50+ undergraduate degrees and 30+ graduate and certificate courses.
Request Information
Loading...
Latest Program News & Events