Share Your Passion for Teaching Grades K-12 with a Spanish Teacher Certificate
Do you have an intense passion for Spanish language and culture? Have you ever thought about sharing this passion with others?
If so, Marywood's Spanish Teacher certification is a perfect fit for you! Marywood's reputation for producing outstanding Spanish teachers is recognized throughout the Northeast. Our graduates are leaders in foreign language pedagogy. Guided by the National Standards of the American Council of the Teachers of Foreign Language, our students are prepared in a variety of traditional and cutting-edge methodologies and technology.
Our curriculum is rich in the areas of civilization, literature, film, and fine arts and is reinforced with cultural events outside the classroom, including opportunities for study abroad. Our conversation and language courses challenge both native and non-native students to attain an ever deepening understanding of the Spanish worlds.
K-12 teaching certification
Requires 33 credits
Courses focus on both the Spanish language and culture
Study abroad opportunities
Certification Information:
Spanish Teacher certification requires completion of an approved program and qualifying scores on state tests.
On the undergraduate level, students must earn their bachelor's degree in their specialty area and in education.
On the graduate level, students can pursue the Spanish certification only or the certification and the MAT degree.
Outcomes & Opportunities
Top Employers
Universities
School Districts
Freelance Interpreter
Media/News Companies
Top Career Paths
Spanish Professor
Spanish Teacher
HR Coordinator
Office Manager
Dig Deeper Into the Program Details
Graduate Admissions Requirements
Bachelor's degree from a regionally accredited college or university
"B" average during undergraduate study or demonstrated potential for graduate work
Completed application

Submit an essay discussing your career objectives and why you want to pursue a career in education.

Official, sealed transcripts
Two or three letters of recommendation
The School of Education is located in the The McGowan Center for Graduate and Professional Studies located on the corner of University and North Washington Avenues. This facility contains classrooms and related clinical/professional space.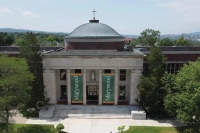 102 Morgan Road
Map & Directions
The Liberal Arts Center contains classrooms utilized by several programs, as well as the Office of Admissions and a variety of other administrative offices. It is also home to the iconic Rotunda and the NativityMiguel School of Scranton.
Learn More
|
Take a Virtual Tour
Map & Directions
The Liberal Arts Center provides classroom space for coursework in the Social Sciences, English, Philosophy, and Religious Studies programs.
Learn More
80+ opportunities for you to find the right fit with 50+ undergraduate degrees and 30+ graduate and certificate courses.
Request Information
Loading...
Latest Program News & Events