Advance the Common Good with an MPA Degree
Public administration professionals serve communities and other public or non-profit entities to effect positive change and to advance the common good. The Master of Public Administration (MPA) at Marywood University is recognized among the best in the nation. It is an exclusive online 30-credit degree program that follows the National Association of Schools of Public Affairs and Administration (NASPAA)'s accreditation guidelines.
Our goal is to prepare students for challenging emergence in public administration as effective and innovative administrators, equipped with practical and real-world experiences, and to train them with the vital skills, evidence-based research, and theoretical framework needed to tackle the complex environment of public affairs.
The MPA degree program affords students with opportunities to get involved in public affairs as soon as they begin the program, focusing on civic engagement and public responsibilities on local, national, and international levels.
The curriculum combines evidence-based research, applied theory, and practical skill development to prepare students for conceptual, analytical, and ethical applications of administrative solutions to problems.
Completely online with full- or part-time options
Outstanding, experienced faculty, including Fulbright Scholars
Apply up to 12 MPA credits toward Marywood's Ph.D. program
Explore Dual-Degree Opportunities
The Master of Public Administration (MPA) and the Master of Social Work (MSW) at Marywood University offer a dual-degree program designed to assure the acquisition of both management and social work skills necessary for competence as a manager/administrator in the social work field.
This program is designed for those who wish to combine the development of administrative and managerial expertise with knowledge, skills, and values of the social work profession. The joint focus on public interest, policy, and management prepares students for a range of professional options and opportunities.
MPA/MSW dual-degree program opportunities
Top Employers
Consulting Firms
Federal Government
Local Government
Hospitals
Top Career Paths
Consultant
Foreign Service Officer
Civil Service Officer
Healthcare Service Manager
Dig Deeper Into the Program Details
Applying to the MPA program at Marywood University is free and open online through the university's Office of Admissions.
An undergraduate degree from an accredited institution of higher learning is required for admissions, in addition to the following:
Official Undergraduate Degree Transcripts
Proof of English language proficiency

(only for students for whom English is not their primary language and did not graduate from an English-taught university).
Personal Statement: The personal statement should be no more than 500 words (or two double-spaced pages) answering the question, 'Why do you want an MPA'? You may describe your reasons for pursuing graduate studies in public administration, your career aspirations, your special interests within your field, and any features of your background that might be of an interest to the program. Commitment to public or nonprofit administration as well as ability to communicate in writing is strongly recommended.
Resume or Curriculum Vitae
Two Letters of Recommendation: The letters should be from individuals who know you in a professional capacity, such as professors, work supervisors, and professionals from organizations where you have served as a volunteer or in another capacity. We look for evidence of academic achievement, community involvement, and personal characteristics that suggests the capacity to foster an institutional culture that advances democratic administration and governance.
GRE scores are not required.
Submit an admission essay (350-word minimum) addressing the four points outlined below:
Describe your professional work background.

What attracted you to pursuing an MPA program?

What do you expect to receive in management training?

How do you expect to use the management training and the MPA degree as a credential in pursuing your career objectives?
Advanced Placement in the Ph.D. Program
Receiving an MPA degree from Marywood University is rewarding. Not only it will provide you with knowledge and skills for career development in the job market, but it will also provide you with an opportunity to continue with your higher education by applying to a Ph.D. program in Public Administration (or any related field). An ideal place for you to apply and continue your education is Marywood University's Ph.D. Program in Strategic Leadership and Administrative Studies (SLAS).
Total credit hours required to complete the Ph.D. Program in SLAS is 60 credits (15 courses, 2 seminars and 9 dissertation credits). However, students with an MPA degree from Marywood University can apply to the Ph.D. Program in SLAS and upon acceptance apply 12 MPA credits (of a grade of B or better) toward the Ph.D. Program as an advanced placement. The following 4 MPA courses are eligible for advanced placement:
The Core Course of PADM 501: Principles of Public Administration: This course can be applied toward the doctoral Foundation Course of SLAS 6001- Administrative and Leadership Theories.
The Core Course of PADM 502: Public Policy Analysis: This course can be applied toward the doctoral Foundation Course of SLAS 6003- Policy Analysis and Organizational Dynamics.
The Core Course of PADM 504: Research Methodology: This course can be applied toward the doctoral Research Course of SLAS 6008- Qualitative Research Design.
The Core Course of PADM 505: Public Budgeting and Finance eligible: This course can be applied toward the doctoral Foundation Course of SLAS 6005- Organizational Budget and Finance.
In the McGowan Center for Professional Studies, you'll find specialized computerized programs, including CAI (computer-assisted instruction) and interactive video capability. General word processing and statistical software is available in the lab as well.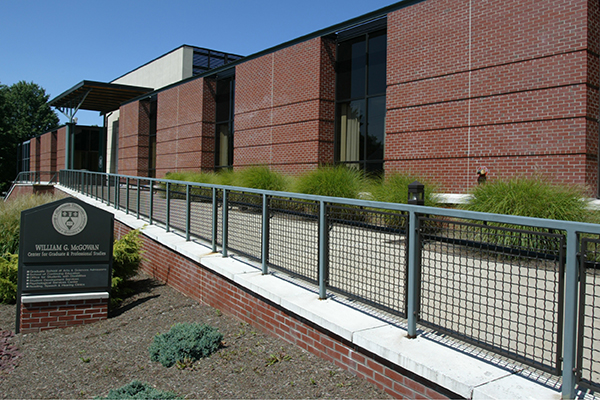 1201 University Avenue
Map & Directions
The McGowan Center for Graduate and Professional Studies, located on the corner of University and North Washington Avenues, contains classrooms and related clinical/professional space for Communication Sciences and Disorders, Psychology and Counseling, Education, and Business students. Market Marywood is also located here.
Learn More
|
Take a Virtual Tour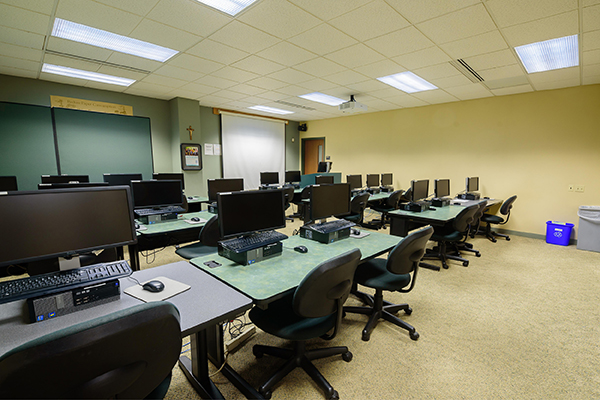 Map & Directions
McGowan Center Computer Labs are located in Rooms 1052, 1056, and 1057. Color printers are available. You can also find Assistive Technology such as Inspiration, Kurzweil, and WriteOutLoud.
Learn More
Jack Kent Cooke Scholarship
The Jack Kent Cooke Foundation's scholarship programs are designed to encourage and support outstanding students who work hard, demonstrate a strong will to succeed, and have financial need. Our scholarships provide financial assistance and academic support to high school, undergraduate, and graduate students.
View Tuition Rates
80+ opportunities for you to find the right fit with 50+ undergraduate degrees and 30+ graduate and certificate courses.
MPA Internship
The MPA program does not require an internship, but encourages internships for pre-career and career-changing students. The program assists students in locating internship opportunities on local, state, regional, national, and international levels. The internship may begin as early as the second semester, but it is usually taken during the latter half of one's program. Your advisor will provide you with placement assistance, once you declare your interest and your registration for the Internship course (PADM 596) is approved. Approximately 400 hours of job experience is to be attained and evaluated (approximately 32 hours per week in a semester or 16 hours per week in two semesters).
Each intern is responsible for negotiating a set of learning and performance objectives with the work supervisor and the program's advisor within the seven areas of POSDCoRB (Planning, Organizing, Staffing, Directing, Coordinating, Reporting, and Budgeting). The statement of objectives, once completed and signed by all parties becomes a contract that the employer agrees to help the intern achieve learning objectives, the intern promises to attain the performance objectives of the agency, and the MPA program agrees that completion of the objectives requires 3 credits for the work portion of the internship. When possible the advisor visits or communicates with the supervisor to coordinate the internship. At the end of the internship, the intern is evaluated by both the supervisor and by his/ her advisor.
1. Federal Government Internships
The Pathways Program includes a federal government-wide internship program for students from high school to PhD. Positions are located across the country, either part-time or full-time.
Veterans interested in continuing their public service can look into the many opportunities provided by this program.
The State Department manages several internship programs that enable students to get experience in a foreign affairs environment.
U.S. Department of Transportation
The U.S. DOT offers internship in several areas, including planning, economics, public administration and criminal justice.
2. Nonprofit Internship
Search by name, location, or mission for volunteer and internship opportunities at nonprofit worldwide.
3. NASPAA
The Network of Schools of Public Policy, Affairs and Administration (NASPAA) has internship opportunities for students of public administration.
Good source for finding jobs or internships.
Peer-Reviewed Journal
Journal of Applied Professional Studies
Resources
Marywood Institutional Review Board (IRB)
Request Information
Loading...
Latest Program News & Events