Become an Expert in Diet and Health with a Nutrition Degree
Marywood's graduate nutrition program develops proficient professionals who are proactive in scholarship and leadership in their respective fields. A Master's in Nutrition from Marywood University will deepen and broaden your nutrition knowledge and skills, making you more valuable as a practitioner and positioning you as a professional who can prove the worth of their services.
Learn to design, conduct, interpret, and apply research. Compete for more challenging professional opportunities, or enter doctoral programs in nutrition. Prepare for a variety of exciting, rewarding, in-demand nutrition careers:
Advocates who influence the development and interpretation of food and nutrition-related legislation
Clinicians who assess, plan, implement, and evaluate a client's nutrition care as a member of a health care team
Managers of resources who administer food service systems, community nutrition programs, and clinical practices
Educators who teach clients, healthcare professionals, employees, and the general public
Researchers who directly conduct nutrition-related research, or who interpret the research to the public
Food and Nutrition Specialists who provide accurate, up-to-date information
Deepen and broaden your nutrition skills
Prepare for/advance in a variety of exciting nutrition careers
36-credit graduate degree program
Evening, summer, and some Saturday classes
Top Employers
Schools
Hospitals
Doctor's Offices
Health Companies
Top Career Paths
Nutritionist
Health Coach
Chef
Nutrition Assistant
Dig Deeper Into the Program Details
Graduate Admissions Requirements
Bachelor's degree from a regionally accredited college or university
"B" average during undergraduate study or demonstrated potential for graduate work
Completed application

Submit an essay discussing your career objectives and why you want to pursue a career in nutrition or sports nutrition (350-word minimum).

Official, sealed transcripts
Two or three letters of recommendation
Human Physiology Lab
The Human Physiology Lab includes a biochemistry lab, climate-controlled room, and equipment that measures:
Aerobic capacity
Anaerobic power
Strength
Bone density
Airway function
Body composition
More about the Human Physiology LabIn addition to traditional food testing tools, our Food Science Lab contains equipment to prepare students for food preparation in real-world commercial settings:
Blast chiller and rethermalization unit
Metabolic kitchen
Sensory evaluation lab
Ingredient room
Food Science Lab Photo Gallery
Our Healthy Demo Classroom is used for instruction and demonstrations, for both students and the community at large.
Our Sensory Evaluation Lab allows students to test the products they make in the Food Science Lab. The two laboratories are connected for easy evaluation.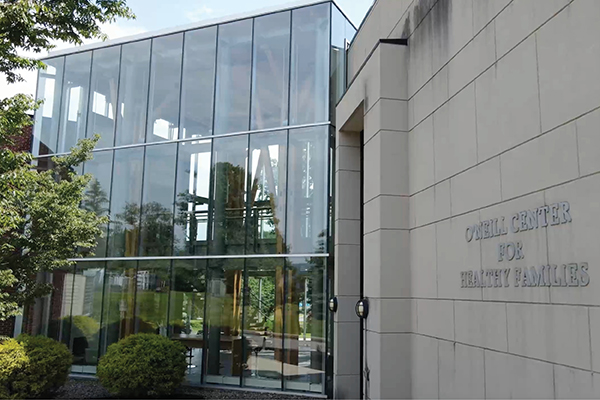 1401 University Avenue
Map & Directions
The O'Neill Center for Healthy Families, located on University Avenue, provides classroom and research space, joining academic programs to innovative research. Students from the Nursing, Nutrition and Dietetics, Exercise Science, Respiratory Therapy, and Physician Assistant programs have classes in this building.
Learn More
|
Take a Virtual Tour
80+ opportunities for you to find the right fit with 50+ undergraduate degrees and 30+ graduate and certificate courses.
From #DayOne, Marywood is here for you each step of the way.
Request Information
Loading...
Latest Program News & Events