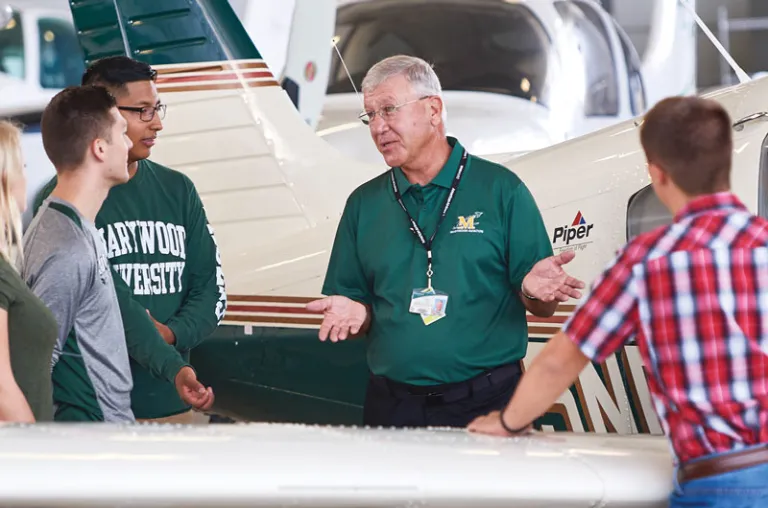 Aviation Program Partners with FlyGATEWAY Aviation Institute
Marywood University has entered into a partnership with FlyGATEWAY Aviation Institute to provide state-of-the-art flight training for Marywood Aviation students.
As the need for airline pilots continues to grow more rapidly than the demand can be met, Marywood officials said this new partnership will provide their aviation students with a wealth of resources, enabling them to train on aircraft and in facilities that will provide a training experience of the highest standard as they work toward their goal of becoming professional pilots.
FlyGATEWAY, a large flight school currently with operations in four locations throughout Pennsylvania and Delaware, is excited to expand their operations to accommodate Marywood University Aviation students by adding a new location based out of the Wilkes-Barre/Scranton International Airport.
Capt. Joseph McDonald, director of the Marywood Aviation Program and assistant professor of aviation, observed, "In addition to their classroom and technical training, the flight training provided by FlyGATEWAY will provide Marywood Aviation students with experience for real-world application and career development, ensuring that our graduates are prepared for a thriving career in aviation upon program completion. Marywood's Aviation program, like others across the country, now plays a vital role in helping to mitigate the acute pilot shortage impacting the airline industry today."
Marywood currently has two Bachelor of Business Administration (BBA) degree tracks in Aviation Management, including one for Pilot/Flight Operations and one for Airline/Airport Management.
Learn more:
Aviation Management Degree (Pilot/Flight Operations) Aviation Management Degree (Airline/Airport)