Advance Your Career with the Online RRT to BSRT Degree Advancement Program
The online RRT to BSRT Degree Advancement Program (DAP) offers a relevant and challenging program that will impact graduates and the patients whom they treat. Students who graduate from the Degree Advancement Program earn a Bachelor of Science in Respiratory Therapy (BSRT). The BSRT degree is earned completely online without having to relocate. Students network with other practicing professionals. Successful graduates will have the skills needed to advance in their field.
100% online
RRT to BSRT degree
Flexible scheduling to continue and advance your career
Top Employers
Hospitals
Urgent Care Centers
Clinical/Doctor's Office
Military Hospitals
Top Career Paths
Respiratory Therapist
Adult Intensive Care Specialist
Pediatric Respiratory Specialist
Pulmonary Technologist
Dig Deeper Into the Program Details
Undergraduate Admissions Requirements
Completed application
Official transcripts
Letter of recommendation
Official SAT and/or ACT test scores (Marywood is test optional)
Essay (optional)
Career Settings
Respiratory therapists provide the hands-on care that helps people recover from a wide range of medical conditions. Therapists get to know their patients, and their patients' families, and have the opportunity to help them through trying times. Whenever breathing is an issue, they are there.
In hospitals, giving breathing treatments to people with asthma and other respiratory conditions.
In intensive care units, managing ventilators that keep the critically ill alive.
In emergency rooms, delivering life-saving treatments.
In newborn and pediatric units, helping kids with conditions ranging from premature birth to cystic fibrosis.
In operating rooms, working with anesthesiologists to monitor patients' breathing during surgery.
In patients' homes, providing regular check-ups and making sure people have what they need to stay out of the hospital.
In sleep laboratories, helping to diagnose disorders like sleep apnea.
In skilled nursing facilities and pulmonary rehabilitation programs, helping older people breathe easier and get more out of life.
In doctors' offices, conducting pulmonary function tests and providing patient education.
In asthma education programs, helping kids and adults alike learn how to cope with the condition.
In smoking cessation programs, assisting those who want to kick the habit for good.
In air transport and ambulance programs, rushing to rescue people in need of immediate medical attention.
In case management programs, helping devise long-term care plans for patients.
Respiratory Therapist Job Duties
Here is a list of tasks that Respiratory Therapists do every day.
Monitor patient's physiological responses to therapy, such as vital signs, arterial blood gases, or blood chemistry changes, and consult with physician if adverse reactions occur.

Set up and operate devices such as mechanical ventilators, high flow oxygen, aerosol generators, nitric oxide gas inhalation therapy, and BiPAP/CPAP machines

Work as part of a team of physicians, nurses, or other healthcare professionals to manage patient care by assisting with medical procedures or related duties.

Maintain charts that contain patients' pertinent identification and therapy information.

Read prescription, measure arterial blood gases, and review patient information to assess patient condition

Perform arterial blood gas punctures and analyze results

Are first line responders to emergency situations such as cardiac arrest and code blue situations performing manual ventilation and assist/perform intubations on patients
Ideal Skills for a Respiratory Therapist
Like most jobs in the healthcare profession, respiratory therapists need to have a unique skill set that allows them to multitask while remaining hyper-focused on the needs and conditions of their patients. All respiratory therapists should have the following skills:
Verbal communication skills

Calm bedside manner

Compassion

Deep understanding of infectious control

Ability to work with a medical team

Good judgment and quick decision-making ability

Time management skills

Physiological knowledge

Patience and ability to teach and train patients

Detail oriented

Science and math skills
The Respiratory Therapy Program is located in the O'Neill Center for Healthy Families. It has a spacious lab with equipment that will be seen in the clinical setting. Students simulate many therapies and use different types of equipment to build confidence before going into the clinical setting. All students are required to achieve competence in the lab in a controlled environment before going out to the clinical sites with patients. Students perform real simulation situations and activities in the lab, so they will have an understanding of therapeutic concepts and how they are applied in real patient care settings. Students are well prepared to treat patients as they begin the clinical portion of the program.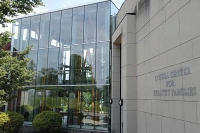 1401 University Avenue
Map & Directions
The O'Neill Center for Healthy Families, located on University Avenue, provides classroom and research space, joining academic programs to innovative research. Students from the Nursing, Nutrition and Dietetics, Exercise Science, Respiratory Therapy, and Physician Assistant programs have classes in this building.
Learn More
|
Take a Virtual Tour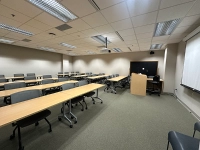 Map & Directions
The O'Neill Center for Healthy Families is the academic home of students in the nursing, nutrition and dietetics, respiratory therapy, and physician assistant programs, all of whom have classes in this building. Exercise Science students also take classes here. The facility includes traditional classroom space as well as clinical and lab space.
Learn More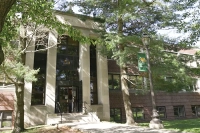 206 Morgan Road
Map & Directions
The Center for Natural and Health Sciences contains various science laboratories, computer labs, the 100-seat Comerford Theatre, and various classrooms. Classrooms for our Math and Computer Science, Science, Nursing, and Public Administration programs are in this building.
Learn More
|
Take a Virtual Tour
80+ opportunities for you to find the right fit with 50+ undergraduate degrees and 30+ graduate and certificate courses.
RESPIRATORY THERAPY

Requirements for All Respiratory Therapy Students
The following must be completed after a respiratory therapy student has been selected for, but prior to their start in the clinical portion of the program and are also requirements for continuation:
Physical examination and required immunizations
Background checks (Pennsylvania Child Abuse History Clearance, FBI fingerprint check, and PA State Police Criminal Record Check)
Drug and alcohol screens
The student should consider these factors before enrolling in this program. If the student has any questions regarding this, he or she should contact the program director.
In addition to tuition and fees, students must purchase uniforms, supplies, liability insurance, testing, and clinical parking fees. Students will be assigned computer simulations that will be completed throughout the program. This will prepare students to sit for the National Board of Respiratory Care (NBRC) exams when they have graduated.
Students will also be required to help within the community and gain knowledge outside of the classroom setting by acquiring Professional Development credits. These outside credits could include volunteering at American Lung Association events, attending informational sessions within the community that teach different types of cardio pulmonary disorders and diseases
Acquiring Core Skills
In addition to the clinical skills that students will learn as part of their curriculum, the Respiratory Therapy Program incorporates core skills training into the program that will benefit all Respiratory Therapy students in their careers.
Writing in the Profession
Students will demonstrate the ability to write effectively in the profession. Elements include the ability to organize an argument, support the argument with high quality relevant evidence, deliver it with good sentence structure and grammar, and cite and reference appropriately.
Oral Communication/Consultative Function/Knowledge
Students will deliver a consultative presentation with recommendations that reflect the knowledge gained through courses in this program.
Critical Inquiry/Evidence-based Medicine
Students will demonstrate the ability to formulate a clinical question, search the medical literature, and assess the collected literature for quality, relevance and limitations.
Teamwork/Interprofessional Cooperation
Students will demonstrate collaboration in interprofessional teams to accomplish a common goal.
Ethical Leadership
Students will demonstrate effectively the ability to lead a group of professionals in an ethical manner promoting patient advocacy.
Teaching Patients and Healthcare Professionals
Students will demonstrate the ability to educate patients, their families, and healthcare professionals.
Graduation Requirements
Graduation requirements include current Certification in American Heart Association BLS (CPR), American Heart Association Advanced Cardiac Life Support (ACLS) certification, American Heart Association Pediatric Advanced Life Support (PALS) certification, professional development credits, and satisfactory performance on comprehensive written, laboratory, simulation, and oral exit examinations.
Membership in the American Association for Respiratory Care (AARC) is required by the start of the second semester of the clinical portion of Respiratory Therapist program.
Request Information
Loading...
Latest Program News & Events