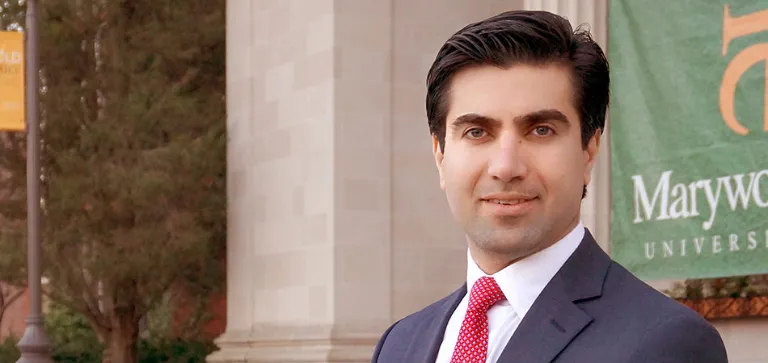 Recent Graduate Wins National Healthcare Management Essay Competition
Rebin Zikhani, M.D., who recently earned a Master of Health Services Administration degree, was awarded first place in the graduate division for his essay "7-Step Pathway for Preventing Errors in Healthcare," at the 2016 Richard J. Stull Student Essay Competition in Healthcare Management, which was held in Chicago, Ill. The American College of Healthcare Executives (ACHE) sponsors the competition, and awards are conferred at the Leon I. Gintzig Commemorative Lecture and Luncheon during ACHE's 59th Congress on Healthcare Leadership
The first-place graduate and undergraduate essays are published in the Journal of Healthcare Management, ACHE's official journal. In order to reach the competition level at the Congress on Healthcare Leadership, Dr. Zikhani had to make it through elimination rounds at Marywood University and then semifinal rounds against the top essayists from programs throughout the United States and Canada.
Alice McDonnell, Ph.D., Professor of Administrative Studies in the School of Business and Global Innovation, who is the advisor to Dr. Zikhani, said, "I was very excited to hear the news of Dr. Zikhani's first-place award in the graduate division for his essay. It takes tremendous academic achievement to reach the level of consideration for finalists, and Dr. Zikhani continues to achieve his goals for academic success."
The Richard J. Stull Student Essay Competition in Healthcare Management is named in honor of ACHE's fourth CEO. The Leon I. Gintzig Commemorative Lecture was established in 1986 and is sponsored by the George Washington University Department of Health Services Management and Leadership Alumni Association.