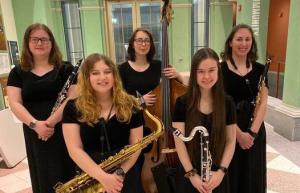 Wind Symphony Musicians Selected
Five members of the Marywood Wind Symphony recently participated in The College Band Directors National Association Eastern Division (CBDNA-E) Intercollegiate Band. The students were selected through a process that included video submissions of solo performances, a dossier of related activity, and director recommendation.
The Marywood students rehearsed for two days in Baltimore, MD, at The Peabody Institute of John Hopkins University under the artistic leadership of Dr. Carolyn Barber, who serves as Professor of Music and Director of Bands at the University of Nebraska-Lincoln's Glenn-Korff School of Music. The concert was presented on Saturday, February 19, in the Miriam A. Friedberg Concert Hall for the membership of the CBDNA-E.
Marywood participants included (pictured left to right in photo):
Lilly Vito • Clarinet • Music Therapy
Elizabeth Vito • Tenor Saxophone • Music Education
Lia Schwenk • String Bass • Music Education
Madelynn Ross • Bass Clarinet (principal) • Music Education
Gabriella Comes • Clarinet • Music Education