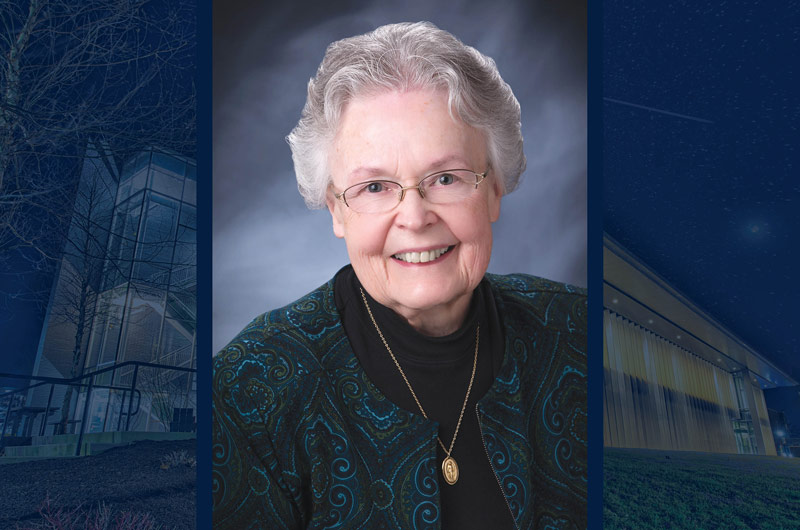 10th Annual CLC to Honor Sister Cor Immaculatum Heffernan, IHM, M.F.A.
Marywood University's Tenth Annual Community Leadership Celebration will honor Professor Emerita of Art Sister Cor Immaculatum Heffernan, IHM, M.F.A. on Thursday, May 4, 2023, 5:30 p.m., at the Center for Athletics and Wellness on the University's campus. During the celebration, Sister Cor will receive the University's Lead On Award, in recognition of her lifelong commitment to education, to service, and to the common good. An art auction will be featured during the event that includes a piece of artwork by Sister Cor.
The Community Leadership Celebration, Marywood's signature fundraiser, provides special support to Marywood students and honors individuals in the community who exemplify Marywood's core values in leadership and service to others. Proceeds from this year's event will benefit the President's Innovation Fund, which supports Marywood students through initiatives that enhance the academic experience in the IHM tradition.
A professed member of the Congregation of the Sisters, Servants of the Immaculate Heart of Mary (IHM), Sister Cor spent the better part of five decades teaching, primarily teaching art at the high school and college levels. After earning her Bachelor of Arts degree in English and Art at Marywood, she went on to complete multiple advanced degrees, including a Master of Arts in Sculpture from the University of Notre Dame, a Master of Science degree in Counseling from Marywood University, and a Master of Fine Arts from Syracuse University. Much of her prolific career as an art educator was spent at Marywood, where she taught for 30 years and served as Art Department Chair for 14 years, until her retirement in 2008. She now holds the distinction of Professor Emerita of Art.
As an artist, Sister Cor has been commissioned to create numerous sculptures, some of which can be seen throughout the country, including college, estate, wellness, and spiritual settings. Many of her sculptures and other works adorn the interior and exterior spaces at Marywood University and the IHM Congregation facilities. She has designed and published two books, including Spirit of Light (2004), and, her most recent, Spirit Within: The Art of Sister Cor Immaculatum Heffernan, IHM. Earlier this year, she presented a retrospective exhibit for Spirit Within, featuring paintings, calligraphy, prints, and sculptures at the Mahady Gallery at Marywood University. As a spiritual director, Sister Cor has presented extensive workshops and retreats on five continents for the Missionaries of Charity. She also has worked with the Institute for Priestly Formation, along with a multitude of parishes and congregations, offering retreats and spiritual direction for priests, consecrated religious, and members of the laity.
In addition to her long career as a Marywood faculty member, Sister Cor is a former Marywood trustee. She also has held membership and leadership positions with the Lackawanna Regional Cultural Council; Everhart Museum; Commission on Architecture and Urban Design; Scranton Diocesan Liturgical Commission; and Meals on Wheels. Sister Cor has been honored by numerous entities for her achievements as an artist, art educator, arts advocate, and a dedicated woman of faith and service.
To join Marywood University in honoring Sister Cor Immaculatum Heffernan, IHM at the Community Leadership Celebration on May 4, or for details about event sponsorships and items for auction, please visit marywood.edu/clc, or call (570) 348-6238.