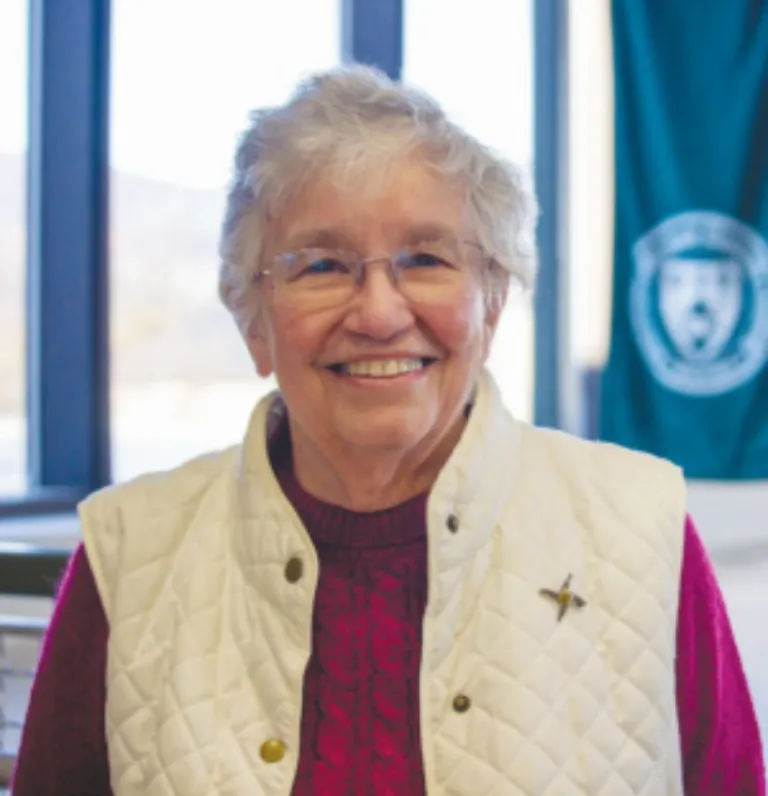 Sister Gail Cabral, IHM to Be Honored
Marywood University's Ninth Annual Community Leadership Celebration on Thursday, May 5, 2022, will honor Sister Gail Cabral, IHM, '63 Ph.D., C.M.F.C., licensed psychologist and a member of Marywood's psychology/counseling faculty for the past 52 years. The event is set for 5:30 p.m. at the Center for Athletics and Wellness on the University's campus. During the celebration, Sister Gail will receive the University's Lead On Award, in recognition of her lifelong commitment to education, to service, and to the common good.
The Community Leadership Celebration, Marywood's signature fundraiser, provides special support to Marywood students and honors individuals in the community who exemplify Marywood's core values in leadership and service to others. Proceeds from this year's event will benefit the President's Innovation Fund, which supports Marywood students through initiatives that enhance the academic experience in the IHM tradition.
For 56 years, Sister Gail has been a professed member of the Congregation of the Sisters, Servants of the Immaculate Heart of Mary (IHM). Throughout her more than five decades of teaching psychology, she has worked with students on undergraduate, graduate, and doctoral levels. She was the first director of Marywood's Ph.D. program in human development and also served as the chairperson of the psychology department. She is a member of the University's distinguished order, Cor Mariae-Pro Fide et Cultura (C.M.F.C.), a distinction of esteem and appreciation awarded upon her twentieth year of faithful, full-time faculty service.
Regional, national, and international communities have benefitted from her professional expertise. Along with many other faculty and administrators, Sister Gail worked on the Department of Defense grant that brought the Military Family Institute to Marywood, leading to numerous studies on the effects of relocation on adolescents in families in all branches of the armed services. She traveled to Africa to teach with the African Sisters Education Collaborative (ASEC) four different times, as well as to England and to other locations in Europe. She continues to teach the African Sisters online. Through a Pennsylvania Humanities Council grant, Sister Gail gave a series of seminars on women's autobiographies throughout Northeast Pennsylvania.
She frequently presented workshops on friendship development in children and adolescents, as well as child care and stress, to various community groups and organizations. Her board memberships included St. Joseph's Hospital, and then Marian Community Hospital, in Carbondale, Pa., and she also was a member of the Synod of the Diocese of Scranton. Additionally, she chaired the local chapter of the Epilepsy Foundation for many years.
Sister Gail holds a bachelor of arts degree in psychology and a master of science in education from Marywood, as well as a Ph.D. from the Catholic University of America. She received a National Endowment for the Humanities for a two-month seminar in autobiography at the University of North Carolina-Chapel Hill. She has researched, taught, and presented on the Myers-Briggs Type Indicator; gender differences; social-cognitive development, particularly in the area of friendship relations; and the relationship of psychology and religion.
Tickets and event sponsorships are available now. Please visit marywood.edu/clc or call (570) 348-6238 for more details about honoring Sister Gail Cabral, IHM at Marywood University's Community Leadership Celebration on May 5.