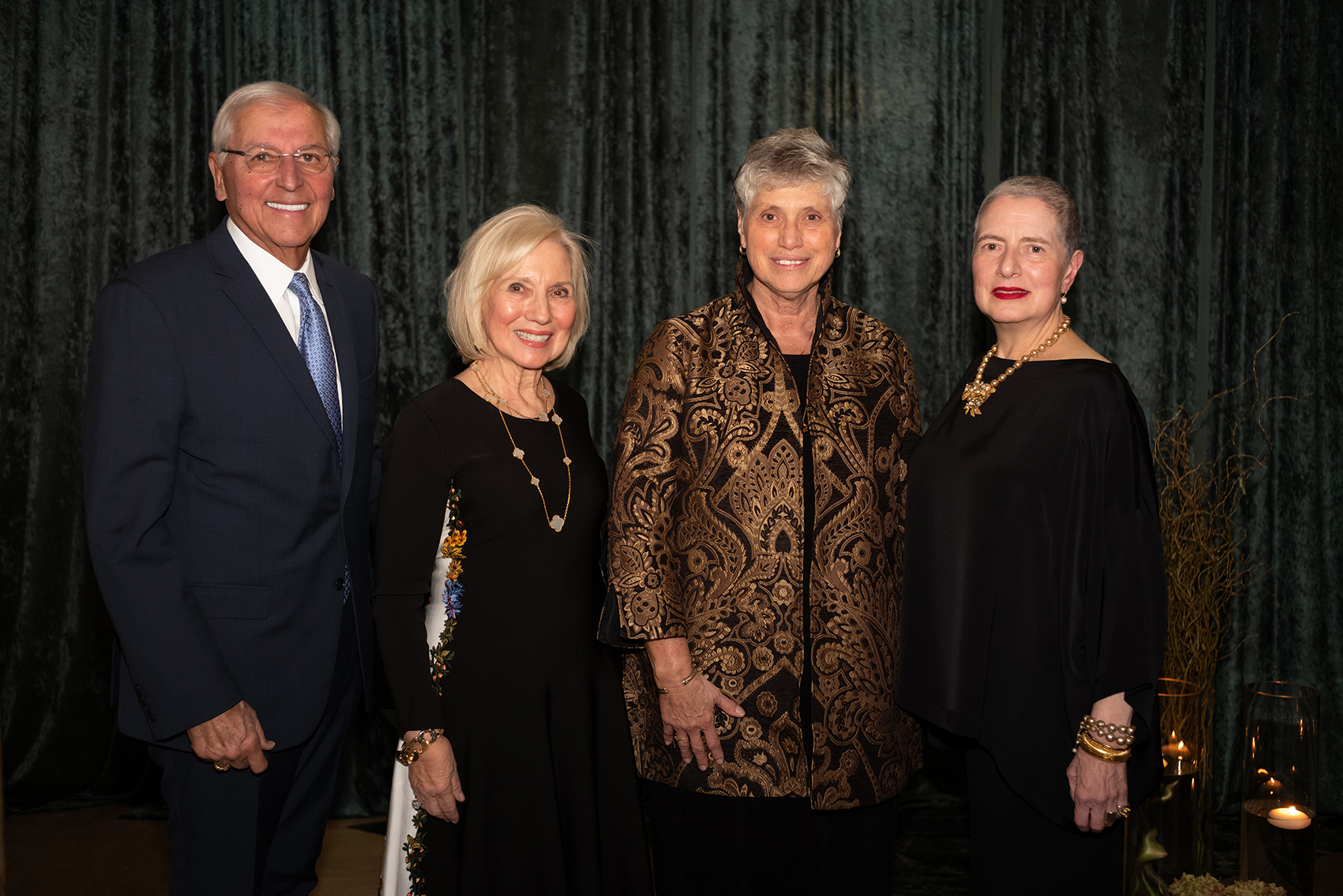 Presidential Society Dinner Recognizes Major Benefactors
At its recent Presidential Society Dinner in the historic Rotunda, Marywood University recognized its major benefactors for their support and commitment.
As part of this evening of recognition, Pia Ferrario, New York, N.Y., vice chair of the Marywood Board of Trustees, was awarded the Presidential Mission Medal and was inducted into the Saint Alphonsus Society. Mission medal recipients are servant leaders who embrace a commitment to Marywood's core values of Catholic identity, respect, empowerment, service, and excellence. They inspire others to serve and advance Marywood's commitment to excellence and empowerment through education.
In addition to Ms. Ferrario, Daniel and Kathleen Damico Mezzalingua '60 and the Pascucci Family Foundation were inducted into the Saint Alphonsus Society, which honors benefactors whose lifetime commitments to Marywood have reached or exceeded $500,000.
Mrs. Mezzalingua, a Marywood graduate, who earned her master's degree from Syracuse University, taught in Syracuse Public Schools before retiring to raise the couple's six children. She has served on behalf of numerous civic causes. Mr. Mezzalingua, a graduate of and former Syracuse University Trustee, worked as a marketing analyst before developing and managing a Syracuse-based family business that manufactured coaxial cable connectors for the cable TV industry. Committed to sharing their blessings and ensuring people have opportunities, the couple has been involved in a leadership capacity with many nonprofit organizations, including the United Way, Community General Hospital Organization, and Hospice of Central New York. Mrs. Mezzalingua serves as the President for the Saint Agatha Foundation established by the couple's late daughter, Laurie, a 2010 Marywood Presidential Medal recipient.
Mr. Pascucci, who with his family, established the Pascucci Family Foundation, credits his early IHM education as the catalyst for his successful business career. A graduate of Bucknell University and New York University's School of Business, Mr. Pascucci began his career as an entrepreneur, going on to found several successful businesses, including an auto leasing company, television station, and one of the top 100 golf courses in the United States, Seabonack Golf Club. The Pascucci Family has provided resources to and volunteered for many nonprofits and service organizations, including the Catholic Relief Services. Their Foundation generously supports Marywood's health and wellness endeavors, including the acquisition of Marywood Heights and other healthcare initiatives planned at the University.
A native of Northeastern Pennsylvania, Ms. Ferrario attended Marywood Seminary, then went on to study art education at Kutztown University. However, she soon realized that the world of merchandising was her true professional calling. She got her start at The Globe Store in Scranton, then moved to the store's parent company, John Wanamaker, in Philadelphia. Her leadership and management positions continued at JCPenney, Dallas, TX, and Ups'N Downs, Enfield, CT. From there, she served for 23 years in a number of executive leadership roles at Victoria's Secret, a subsidiary of L Brands, which culminated in her being named as CEO of Victoria's Secret Direct, a position she held until her retirement.
Ms. Ferrario has traveled overseas with Catholic Relief Services and has served as a member of the New York Regional Council and the President's Circle of Catholic Relief Services. Additionally, she participated in the Mentor Outreach Program of Catholic Charities in the Archdiocese of New York, volunteered for and supported the Food Bank for New York City, the Inner City Scholarship Fund of New York City, and the Church of the Blessed Sacrament in New York City.
Ms. Ferrario enthusiastically supports both Marywood University and the IHM Congregation, because of their emphasis on helping people and educating students, particularly those who otherwise would not have educational opportunities.
Sister Mary Persico, IHM, Ed.D., Marywood University president, said, "I thank Pia for her unwavering commitment to the present and her faith in the future. She lives the virtue of kindness and humbly, wholeheartedly, and graciously espouses the mission of Marywood."