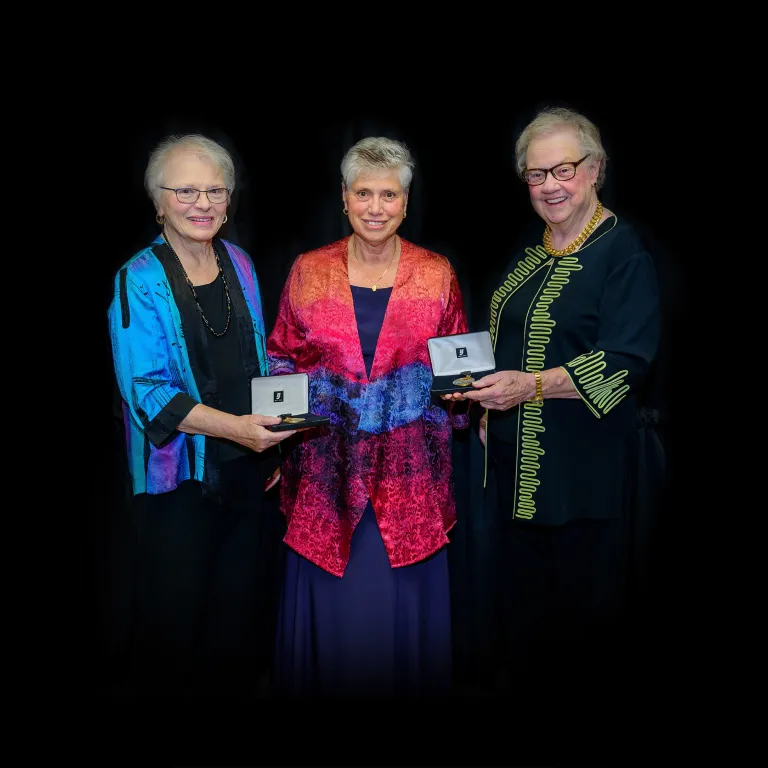 Presidential Society Dinner Honors Alumni Benefactors
At its recent Presidential Society Dinner, Marywood University honored Barbara Cawley '63 and Mary Ellen Coleman (H)'68 with the Presidential Mission Medal. Presidential medal recipients are servant leaders who embrace a commitment to Marywood's core values of Catholic identity, respect, empowerment, service, and excellence. They inspire others to serve and advance Marywood's commitment to excellence and empowerment through education.
Additionally, Barbara Sowinski, M.A. '00; the late Ann Marie Janders, M.S.L.S. '68; and The Donald B. and Dorothy L. Stabler Foundation were inducted into the Saint Alphonsus Society, which honors benefactors whose lifetime commitments to Marywood have reached or exceeded $500,000.
Cawley's leadership, devotion, talents, and support have made a lasting impact at Marywood. She was taught, mentored, supported, guided, and counseled by the IHM Sisters in Catholic grade school and high school, as well as throughout her college days and professional opportunities at Marywood. Her career has featured high-profile leadership positions in both corporate and educational settings, including her distinctive service at Marywood, first as Director of Development, then as Vice President of Development, Alumni Relations, and Public Relations, and, more recently, as Alumni Engagement and Development Liaison and Advocacy Committee Liaison to corporate, foundation, and government offices. Her accomplishments are not solely in the professional milieu; Cawley's community involvement is prolific, meaningful, and lifelong, encompassing numerous civic, cultural, and charitable organizations and events.
Coleman has contributed her professional expertise, community influence, and generous personal resources in support of Marywood and its mission. Her considerable professional achievements, including a long, successful career in the out-of-home media industry, are framed by her highly effective leadership in numerous charitable, civic, and professional organizations. She is known for being astute, professional, caring, and dependable, meeting life's challenges and uncertainties without hesitation and with a riveting passion for helping others. Her passionate involvement with Marywood spans several decades, including serving for nine years as Director of Development, another nine years as a member of the Board of Trustees, and, presently, more than ten years as an Advancement and Alumni Engagement Consultant.
Presidential Mission Medal recipients inspire others to serve and advance the University's commitment to excellence and empowerment through education.
Sister Mary Persico, IHM, Ed.D., Marywood University president, said, "These women have humbly, wholeheartedly, and graciously lived the Marywood mission and, in so doing, have helped transform Marywood. Commitment to helping others is at the very core of their existence. On behalf of the campus community, I thank Barbara and Mary Ellen for their unwavering advocacy for the present and future success of this great institution."