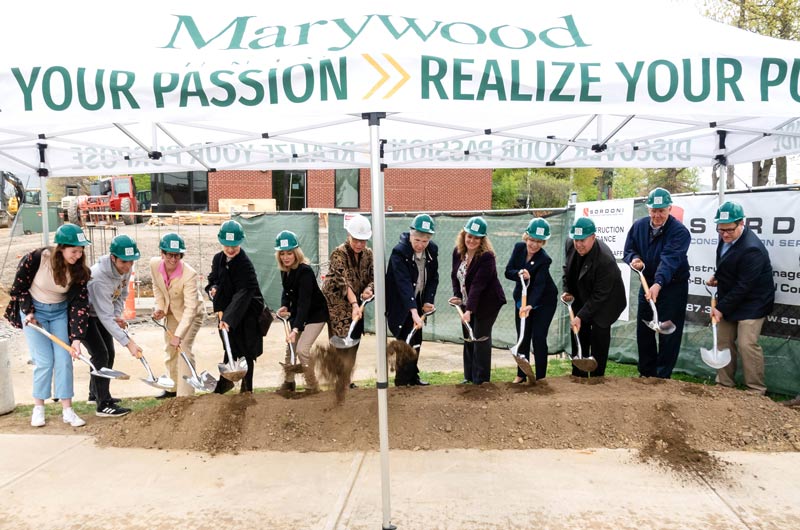 Groundbreaking of the Pascucci Family Health Sciences Pavilion
Marywood University broke ground for a new health sciences pavilion on Friday, April 28, during a 4 p.m. ceremony on the entrance lawn of the Center for Athletics and Wellness on University Avenue. A community reception followed in the atrium at the Keith J. O'Neill Center for Healthy Families.
The new Pascucci Family Health Sciences Pavilion will be an exciting addition to The Keith J. O'Neill Center for Healthy Families, further expanding the university's deep commitment to health and wellness. It will be a space where health professions students can learn and grow together, sharing state-of-the-art labs, classrooms, conference areas, and the latest technologies. Construction has already begun, and the project completion is expected in the summer of 2024, in time for fall 2024 classes.
Sister Mary Persico, IHM, Marywood President, members of the Marywood University Board of Trustees, faculty, and students majoring in various health professions were on hand for the groundbreaking ceremony. The new pavilion is being named in honor of the Pascucci Family, major benefactors of the project.
The Pascucci Family Health Sciences Pavilion is also being made possible in part by Community Project Funding through Congressman Matt Cartwright, who played a significant role in securing the grant. Hemmler+Camayd Architects designed the new pavilion, and it is being constructed by Sordoni Construction Services, Inc.