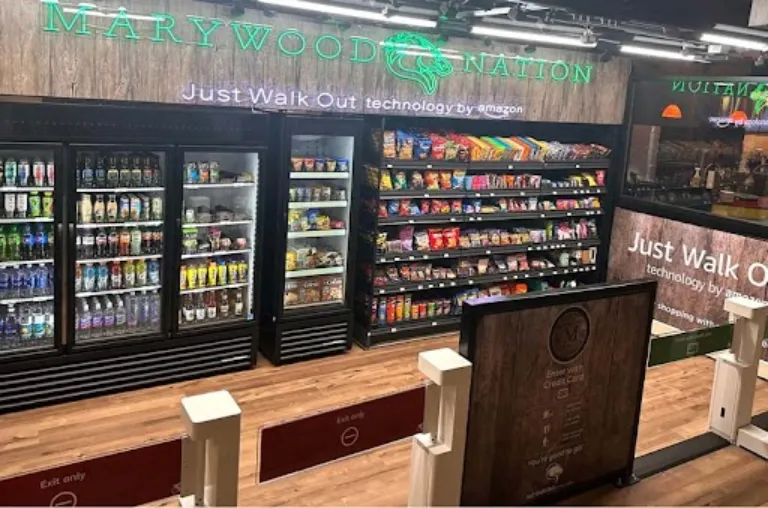 Marywood Pacer Nation Opens Its Doors
Marywood University and Gourmet Dining Services LLC are proud to announce the grand opening of an on-campus convenience store powered by Amazon's Just Walk Out technology and Amazon One, a palm-based biometric identity and payment service. Located in the entryway of the Main Dining Room in the Nazareth Student Center, the new convenience store—Marywood Pacer Nation—opened its doors to the University community on August 4, 2023. The implementation of Amazon's cutting-edge Just Walk Out technology is designed to eliminate checkout lines and provide an effortless customer experience.
As the first university in Pennsylvania to launch Just Walk Out technology in an on-campus convenience store, Marywood University is taking the lead in enriching the student experience through cutting-edge technology. Just Walk Out technology and Amazon One is made possible by artificial intelligence like computer vision and deep learning techniques, including generative AI, to accurately determine who took what in any retail environment. Amazon built synthetic datasets to mimic millions of realistic shopping scenarios as well as photorealistic synthetic palm images to ensure accuracy in any environment.
Customers simply use their credit card or, if enrolled in Amazon One, may hover their palm over an Amazon One device at the store entry gates, grab what they need, and the technology automatically detects what is taken from or returned to store shelves, creating a virtual shopping cart. When customers have completed their shopping, they leave the store without stopping to check out and their credit card will be charged for the items they took.
Amazon One is easy to use and takes less than a minute to enroll. Customers can pre-enroll online at https://one.amazon.com/getting-started and complete the enrollment process at an Amazon One kiosk. Once registered, each time a customer wants to use Amazon One to pay at Marywood Pacer Nation or any location that accepts Amazon One for identification, entry or payment, they'll just hover their palm above the device. It's that simple. Here's a video to explain how it works.
"This milestone represents another significant step forward in our ongoing efforts to enhance the Marywood student experience," stated Sister Mary Persico, IHM, Ed.D, Marywood's President. "I am grateful to our partners, Gourmet Dining Services LLC and Amazon, for their collaboration and support in bringing Marywood Pacer Nation to life, designing it with our students' needs in mind."
"We are thrilled to bring Just Walk Out technology and Amazon One to the students of Marywood University," said Jon Jenkins, Vice President of Just Walk Out technology, AWS Applications. "With Just Walk Out and Amazon One, students will find an innovative way to purchase the items they need with a frictionless shopping experience so they can quickly get back to their studies — even early in the morning or late at night."
In the initial planning for the Marywood Pacer Nation store, Gourmet Dining Services LLC surveyed students to hear firsthand what products they would most like to see in a new convenience store on campus. Their recommendations influenced the robust assortment, which includes a vast variety of food and beverage options, toiletries and other everyday essential items.
Marywood University and Gourmet Dining Services LLC are committed to providing students with new and exciting on-campus experiences that cater to their needs. Just Walk Out technology and Amazon One allows the store to operate unattended if needed, enabling extended hours for busy students. Now, students and guests can grab food, beverages, and other essentials conveniently, in a way that fits their academic schedules and is free of long lines at checkout.