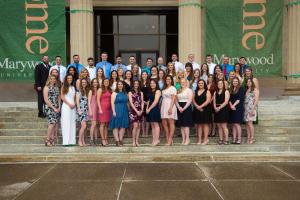 Physician Assistant Graduates Earn Perfect First-Time Pass Rate on National Exam
The University's Physician Assistant graduates from the Class of 2018 earned a 100 percent first-time pass rate on their national exam. Physician Assistant National Certifying Exam (PANCE), the national certifying examination given to graduating physician assistants, must be passed to be eligible for licensure in all 50 states.
The Class of 2018 had a 100 percent pass rate; the national average last year was 97 percent. The Physician Assistant Program at Marywood University first admitted students in 1998. Physician Assistants are licensed medical professionals who work under the supervision of licensed physicians.
The Bureau of Labor Statistics predicts that the demand for physician assistants is projected to grow 37 percent from 2016 to 2026, much faster than the average for all occupations. As demand for healthcare services grows, physician assistants will be needed to provide care to patients.
Pictured: The Class of 2018 at the annual Pinning Ceremony for Physician Assistant graduates at Marywood University.
First Row Left to Right: Elizabeth Gillow, Peckville, Pa.; Kelsey Janesko, Moosic, Pa.; Rachel Higgins, Hackettstown, N.J.; Melissa Bready, Coopersburg, Pa.; Sara Kutz, Furlong, Pa.; Emily Goble, LeRaysville, Pa.; Morgan Zucchino, East Stroudsburg, Pa.; Nicole Coyne, Montgomery, N.Y.; Anastasia Kirsch, Malvern, Pa.; Danielle Scartelli, Jefferson Twp., Pa.; Lexandria Pascarella, Bradford, Pa.; Michelle Menko, Trevorton, Pa.; Casey Kasisky, Falls, Pa.; and Alexandra Ahern, West Chester, Pa.
Second Row Left to Right: Danielle Scribani, Staten Island, N.Y.; Alycia Bravyak, Forty Fort, Pa.; Felicia Hertzog, Binghamton, N.Y.; Julia Fick, Clarks Summit, Pa.; Kaytlin Burczak, Manteno, Ill.; Haley McGuigan, Royersford, Pa.; Catherine Mahoney, Clarks Summit, Pa.; Lauren Notchick, Honesdale, Pa.; Alyssa MacIntosh, Norwich, N.Y.; Brittany Wertman, Catawissa, Pa.; Melissa Keisling, Clarks Summit, Pa.; Emily Kaledas, Saint Clair, Pa.; Marisa DelGaudio, Dallas, Pa.; Cassie Erdmann, Browndale, Pa.; Holly Drutarovsky, Dickson City, Pa.; Jessica Brooks, Chenango Forks, N.Y.; Vanessa Resendiz, Downingtown, Pa.; Colleen Kramer, Duryea, Pa.; Kerri Orr, Moscow, Pa.; Carly Moore, Campbell, N.Y. Gabriella Rossi, Archbald, Pa.; and Molly Boswell, Scranton, Pa.
Third Row Left to Right: Lee Allen, Moscow, Pa.; Jason Trahan, Plains, Pa.; Kevin Aebli, Endwell, N.Y.; Sean Reynolds, Advance, N.C.; Jacob Roberts, Johnstown, Pa.; Luigi Tirro, Staten Island, N.Y.; Nolan Docherty, Castleton, N.Y.; Justin Liu, Sayville, N.Y.; Tyler Rundell, Sherburne, N.Y.; Harry Chin, Glenolden, Pa.; Samuel Brittingham, Salisbury, Md.; Kyle Pane, Roaring Brook Twp., Pa.; Peter Inirio, Scranton, Pa.; and Brian Shanahan, Victor, N.Y.