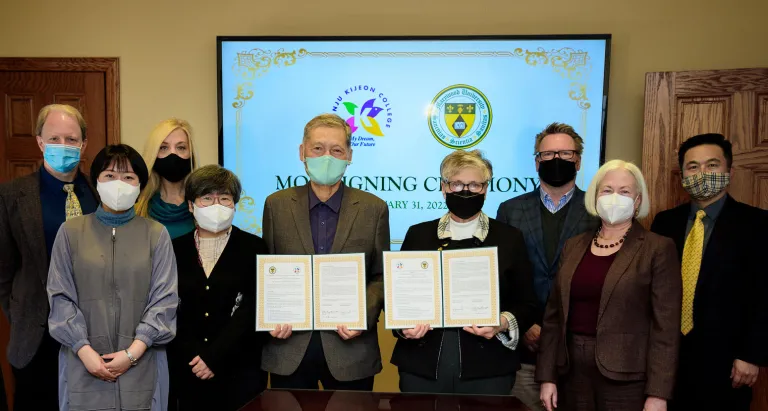 Memorandum of Understanding Established with Jeonju Kijeon College
Representatives of Marywood University, Scranton, Pa., and Jeonju Kijeon College, Jeonju, South Korea, recently signed a Memorandum of Understanding (MOU) between both institutions.
This agreement and ongoing discussions between the leaders at both institutions are focused on the possibilities of global exchange programs in the near future.
Marywood University representatives included Sister Mary Persico, IHM, Ed.D., president; Christina Clark, Ph.D., provost; David Kang, Ph.D., associate provost for global education; and the deans of Marywood's three colleges, Jeffrey Johnson, D.M.A., dean of the College of Arts and Sciences; Lori Swanchak, Ph.D., dean of the College of Health and Human Services; and Jim Sullivan, AIA, dean of the College of Professional Studies. Representatives from Jeonju Kijeon College included: Dr. Hee Cheon Cho, president; Dr. Jungsook Seo, CEO; and Dr. Gahyun Kim, professor of early childhood education.