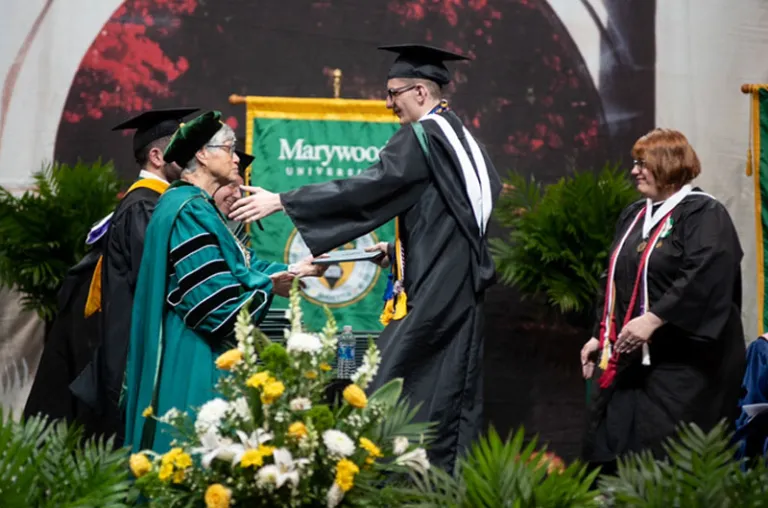 Marywood University's 105th Annual Commencement Ceremony
More than 800 students were part of Marywood University's 105th annual commencement ceremony on Saturday, May 20, 2023, at 1 p.m., at the Mohegan Sun Arena, Casey Plaza, in Wilkes-Barre Twp.
Marywood University's three colleges, including the College of Health and Human Services, the Insalaco College of Arts and Sciences, and the Reap College of Professional Studies, conferred degrees on undergraduate, graduate, and doctoral students who hail from 26 states and 2 countries.
Business, social work, and physician assistant studies were the top graduate level degree granting programs. Architecture, business, and nursing were the top undergraduate level degree granting programs.
Trapeta B. Mayson, LCSW, MBA, Philadelphia's fifth poet laureate, addressed the Marywood graduates. She received an honorary doctorate during the ceremony.
Mayson was born in Liberia. Her family immigrated to the United States when she was a young girl, and she was raised in Philadelphia. She earned her bachelor of arts degree in political science and master's degrees in social services and business from Bryn Mawr Graduate School of Social Work and Social Research and from Villanova University School of Business respectively.
In addition to serving as Philadelphia's fifth poet laureate, Mayson is a licensed clinical social worker and Chief Program Officer at a community mental health agency in Philadelphia. Her term as the city's poet laureate occurred in 2020-2021, during the height of the pandemic, a time that underscored the vital intersection of mental health and poetry as part of the human experience. In response, she established the Healing Verse Philly Poetry Line, a toll-free telephone line featuring a 90-second poem by a Philadelphia-connected poet, offering callers encouraging verses of care and community, along with providing national mental health resources.
The author of two self-published poetry collections, Mocha Melodies and She Was Once Herself, Mayson also released the music and poetry projects SCAT and This Is How We Get Through, in collaboration with jazz guitarist Monnette Sudler. A Cave Canem, Pew, and Aspen Words fellow, she was awarded a Leeway Transformation Award and is a Pennsylvania Council on the Arts grantee, among others. Mayson is a member of the Greene Street Artist Cooperative and, in 2021, she received an Academy of American Poets Laureate Fellowship.
In addition to May 2023 graduates, Marywood University's commencement includes August 2022 and January 2023 graduates who are participating in the May 2023 ceremony.
Click the following links to access the full list of graduates for each College: