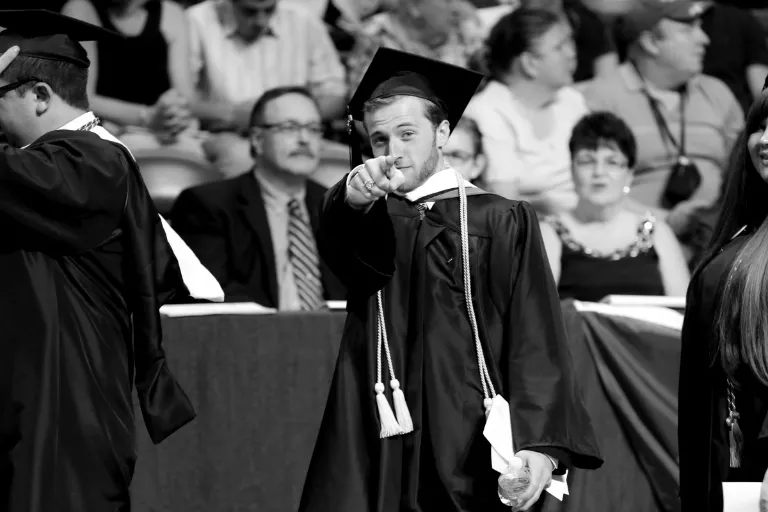 Marywood Confers More Than 850 Degrees at 97th Annual Commencement
ore than 850 students from 23 states were part of Marywood University's 97th annual commencement on Saturday, May 16, 2015, at the Mohegan Sun Arena, Casey Plaza, in Wilkes-Barre Twp.
Marywood's four colleges, including the Reap College of Education and Human Development, the Insalaco College of Creative and Performing Arts, the College of Health and Human Services, and the Munley College of Liberal Arts and Sciences and its School of Architecture conferred over 850 degrees to undergraduate, graduate and doctoral students.
Art, business, social work, and psychology/counseling were the top degree granting programs.
Reverend Dennis H. Holtschneider, C.M., Ed.D., was the keynote speaker at commencement. Rev. Holtschneider, 11th president of DePaul University, Chicago, Ill., the nation's largest Catholic university and the largest private university in the Midwest, also received an honorary doctorate during the ceremony.
A native of Detroit, Rev. Holtschneider is a member of the Congregation of the Mission religious community, commonly known as the Vicentians, who sponsor three American Catholic universities: DePaul University, Chicago; St. John's University in Jamaica, N.Y.; and Niagara University in Niagara, N.Y.
At DePaul, Rev. Holtschneider oversees a $564.1 million budget, more than 24,400 students, and nearly 1000 full-time faculty members on five Chicago campuses. His life has been dedicated to serving others by paving the way to educational opportunities. He has long championed the cause of making a college education more accessible.
Rev. Holtschneider studied at Harvard University and received his doctorate in administration, planning, and social policy in 1997, after writing a dissertation on the early history of financial aid in the United States. He has been a case researcher and writer for Harvard's schools of Education, Medicine, and Public Health. He earned a bachelor's degree in mathematics from Niagara University in 1985, studied for the priesthood at Mary Immaculate Seminary in Northampton, Pa., and was ordained in 1989.

Gregory Keane Hunt, M.Arch., F.A.I.A., professor and founding dean of the School of Architecture, who recently retired, was awarded a Presidential Medal, Marywood's highest honor, during the ceremony. After many years as an architecture practitioner and educator,Greg Hunt came to Marywood in 2009, accepting the challenge of building a new School of Architecture—the first such school in Northeast Pennsylvania. In six short years, he created a school that now boasts an outstanding reputation. Through its distinctive educational experimentation, the School has flourished and grown, with more than 200 students enrolled.