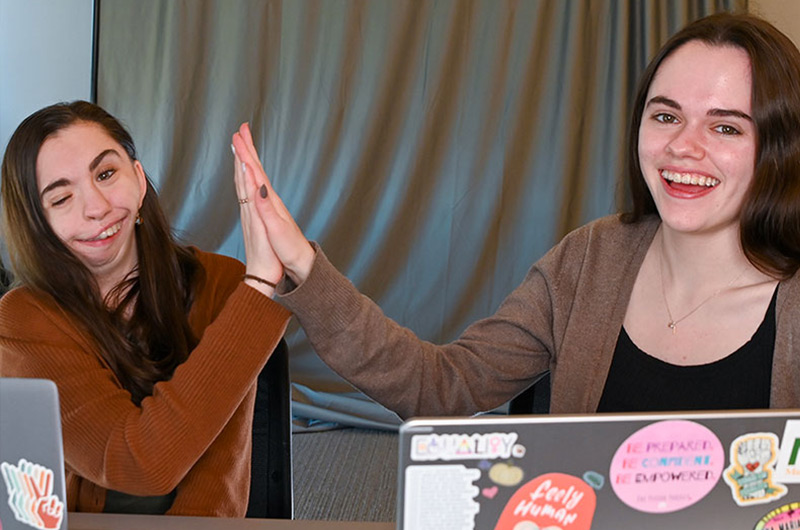 These Pacers Know How to be Courageously Kind
Liz and Maddie Adams sat in an unused corner of the Learning Commons adjacent to the circulation desk. Surrounded on two sides by windows overlooking the rain-soaked Art Field. The two girls, twins at the tail end of their sophomore year, were a vernal contrast to the climate of Scranton's late winter season. In speaking with them, the Brackney, Pa natives expressed a big-dream enthusiasm for their study of Multimedia Communication and an inexhaustible dedication to their craft.
Since coming to Marywood, the duo has embraced the university experience for all the academic and social opportunities it has to offer. In addition to adding coursework for a second major in applied theology, the pair has committed themselves to expanding their religious and professional understandings through involvement with Delight, a women's ministry group on campus. They have also taken on the roles of writers and editors for The Wood Word, Marywood's electronic student newspaper, and interns in Marywood's Marketing Department.
"I love that we have the opportunity to create anything and use our skills and work with people with different skill sets. It's really cool, really exciting," Maddie said of her experience so far.
Liz favors the broad scope of activities available to students. "I love that we have the possibility to just explore," she said. "You know, when you come to college, you kind of make your fate your own. In a lot of ways, I feel like Marywood brings a lot of great opportunities for that."
The Adams twins came to Marywood primed to engage in all that the vibrant campus community had to offer as well as lend their own unique talents and perspectives to the mix.
To view the pair as media producers within the scope of their academic and Marywood-related extracurriculars, however, is to severely limit depth and breadth of their abilities. Before coming to Marywood's campus in the fall of 2020, the two began their Courageously Kind podcast as a quarantine passion project while still seniors in high school.
"We really just felt–like everyone at the time–a little bit discouraged in the way that the world was looking, and we wanted to do something that brought a little bit of hope and a little bit of optimism," Maddie said. "Even if it was just to our family and friends."
Now with an audience of over 100,000 subscribers spread across 60 countries, Courageously Kind has entered into its second season.
"I really didn't expect to be doing it still, " Liz said. "It was just kind of an idea like 'let's just try it, and if it's just our friends and family who listen to it, great.' But it's taken on a life of its own."
The pair have used the podcast to spread messages of kindness and positivity, to highlight businesses and organizations giving back to their community, and to advocate for face equality.
"I think we both believe that the media we consume has a lot of influence on us and our society," Maddie said. "We want to see how we can use that for good and how we can combat media that is not necessarily using that for good."
Born with a facial difference known as Goldenhar Syndrome, Liz experienced the effect that negative portrayals of such conditions have on individuals within the community.
"Face equality is a weird in-between. Sometimes it gets left out of conversations about disability and disability justice and advocacy," Liz said. "Basically what we're doing is fighting for accurate representation and positive treatment of people with facial disfigurements."
The pair's devotion to sharing the importance of kindness and, particularly, the nuances of Liz's experience in the name of creating a more accepting, welcoming environment, was noticed by Marywood alumna Terry Dempsey '73 and her husband, Jody, who run a Peace Camp in Brackney that was attended by the Adams twins throughout their youth.
As the pair rose through the ranks of campers, their love of the message and purpose of the camp deepened. When the time came, the pair took on counselor positions when they were just in the 6th grade, and they have been masters of ceremony since the summer of 2019.
As counselors, the pair worked on a team of other students to create materials for each year's camp. This included tasks such as writing skits to perform, brainstorming activities, and designing the year's camp logo. As masters of ceremony the two were responsible for leading three large groups sessions per day, helping to coordinate activity stations, working one-on-one with kids, assisting and training student counselors, writing and performing skits, giving talks, designing T-shirts, and social media outreach for the camp.
Terry Dempsey described her wonder in "what great human beings" the two young women are. "I feel honored to know them and watch them grow into the incredible advocates they are for a better world," Dempsey said. "We were blessed to work with amazing kids and teens who helped spread our message, but Liz and Maddie were extraordinary examples. They came with a life story, empathy, and compassion built in. I watched both of them use every ounce of their talents to show hundreds of children how to spread messages of peace, understanding, empathy, and courage. As emcees of the camp, they stole the show. It was now their message, not ours! It was a very proud moment for us!"
As masters of ceremony, Maddie and Liz were able to cap their experience at the camp and were allowed to leave a mark on what had been a major part of their lives since childhood.
"I think as we transitioned into counselors and emcees, we learned a lot about leadership, what it means to lead with other people, and how we do that in a way that is kind, compassionate, and inclusive," Maddie said. "I think, honestly, we learn more than the kids learn. It got much more important and much more special when we were given the responsibility to share what we learned with the next generation of peacemakers."
As the Adamses continued to develop through their roles at the camp, the Dempseys noticed a chance to further develop the camp and its connection to Maddie and Liz, by allowing Liz an outlet to share her story and the importance of face equality. The offer came after the Dempseys saw promotional work Liz did with Face Equality International, an international organization that seeks to support and fairly represent individuals with facial differences. Liz was approached to give a talk on the subject at the camp, a challenge she eagerly accepted.
"I was so excited and so scared to really take all of the things I had been feeling and to publicly say, 'Hi, I have a facial difference or facial disfigurement,'" Liz said. "I'm just so grateful to the Dempseys for that opportunity to include that message within the Peace Camp…and for trying to teach kids really how to become more accepting of people who look different."
While the pair's encounters with Terry and other alumni within their community ultimately informed their decision to attend Marywood, their passion did not lend itself instantaneously to the pursuit of multimedia communication degrees; they went undeclared, until taking a communication course in the spring semester of their first year.
"The Media Writing class was that first little taste," Liz said. "A lightbulb went off, and it was like, oh my gosh, this is it."
"It felt like we found the missing piece when we saw there were courses and a degree in it," Maddie said. "Looking back on it, I can't believe that we did a year undecided (although) I wouldn't change it. I believe everything happens for a reason, but I was like, why didn't you realize it before."
Now in the spring semester of their sophomore year, the pair have settled into their major and on-campus involvement, but still have their eyes on the future. Each wants to continue work on their podcast as well as further their careers in communication by producing positive messaging and kindness-geared media.
To students still trying to find their way and tell their own stories, the pair offers their own thoughtful advice.
"Hang in there; it's going to be okay. Make use of the resources that you have," Maddie said. "We definitely went through a bit of a rough adjustment just getting used to being on our own and figuring out what you want to do with your life–it's definitely a challenge."
"But challenges are not always bad," Liz said. "They can turn out to be very beneficial in a way. People care about you and they want you to succeed."
"You just have to take the first step," Maddie added.
"You just have to keep going," Liz finished.