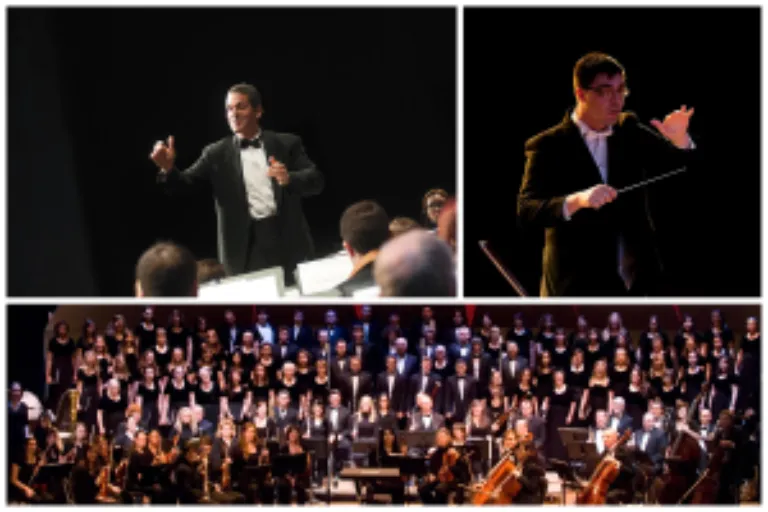 Concert Choir and Orchestra Join Forces
For the first time in five years, the Marywood University Concert Choir and Orchestra, along with four vocal soloists, joined forces to present a major fall performance on Sunday, November 21, 2021, at 4 p.m., in the Sette LaVerghetta Center for Performing Arts. The concert was free, open to the public, and in person. Masking protocols were to be followed inside all Marywood University facilities.
The two ensembles presented a monumental piece of music by Michael Tippett, A Child of Our Time. The concert also featured Three Spirituals for Orchestra by Adolphus Hailstork. According to the directors, this was the largest-scale concert that Marywood's Department of Music, Theatre, and Dance has presented to the public since 2016. The Concert Choir was directed by Rick Hoffenberg, DMA. The Orchestra was directed by Evan Harger. Concert soloists included: Jennifer Cowgill, soprano; Ellen Rutkowski, mezzo-soprano; Wes Poole, tenor; and M. Moses Andradé, bass.
Tippett's A Child of Our Time was composed during World War II in response to the horrors of Kristallnacht, and the piece wrestles with issues such as racial tensions and persecution that are as relevant now as they were 80 years ago. The composer, an ardent pacifist, used African-American spirituals to represent the voices of the oppressed, in this case the Jews who were murdered by the Nazis.