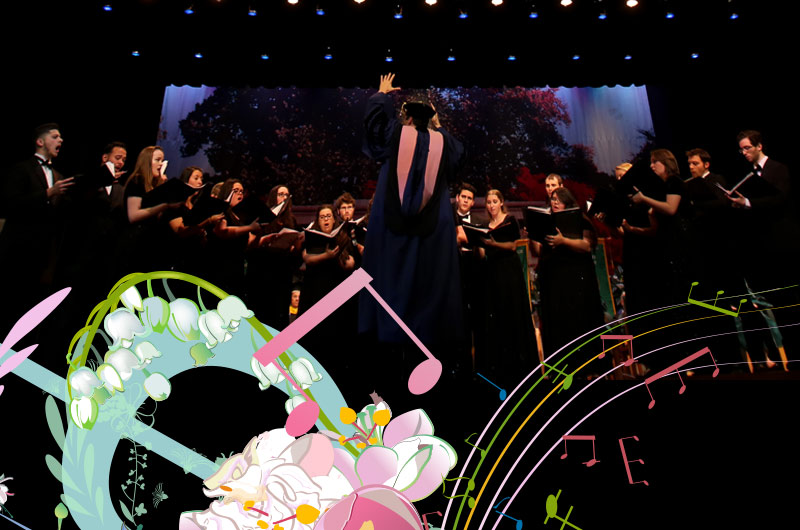 Chamber Singers Embark on Spring Tour
For the first time in five years, the Marywood University Chamber Singers are embarking on a concert tour outside the Eastern United States. The tour program will feature Francis Poulenc's dramatic Mass in G Major and other unaccompanied choral works by Italian and Norwegian composers.
The Marywood University Chamber Singers are a select ensemble of students pursuing a variety of majors at Marywood University. The group's repertoire encompasses repertoire ranging from masterworks of the Renaissance through world premieres by living composers.
Recent concert venues on its annual tours have included Steinway Hall and St. Patrick's Cathedral in New York City, St. Francis of Assisi Cathedral in New Jersey, First Church and Faneuil Hall in Boston, Marquand Chapel at Yale University, Notre Dame Basilica in Montreal, and several locales in California, Florida, Georgia, and Louisiana. Two-time national finalists for The American Prize in Choral Performance, Chamber Singers were one of six choirs nationwide to be given awards in the collegiate division of the 2022 American Prize Competition. In 2022, they were the featured choir at the National Meeting of the Association of Catholic Colleges and Universities in Washington, DC.
On its 2023 spring tour, the Marywood University Chamber Singers will perform at the following venues. Admission to all performances is free.
St. Luke's Episcopal Church
Atlanta, GA
Tuesday, May 23, 7:30 PM
The Episcopal Church of the Ascension
Knoxville, TN
Wednesday, May 24, 7:30 PM
First United Methodist Church
Oak Ridge, TN
Thursday, May 25, 7:00 PM
St. George's Episcopal Church
Nashville, TN
Saturday, May 27, 7:00 PM
St. Francis of Assisi Church
Louisville, KY
Sunday, May 28, 3:00 PM