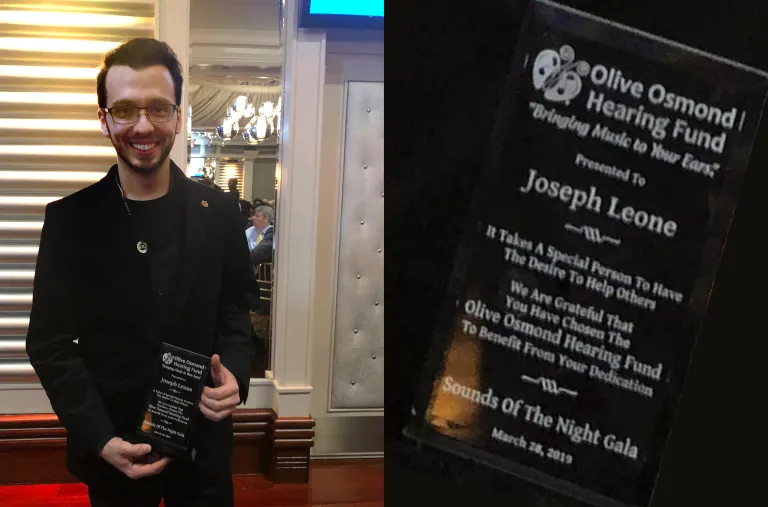 Bringing Music to Their Ears
Marywood University School of Architecture student, Joseph Leone, was recently honored by the Olive Osmond Hearing Fund (OOHF) at its Annual "Sounds of the Night" Gala fundraiser, held at the Chateau Briand in New York. Joseph has been a dedicated supporter of the OOHF, which raises money for hearing aids for children who cannot afford them.These devices, along with the medical support services needed to fit and maintain them, can cost thousands of dollars and are not covered by insurance in most cases. Without hearing aids, children would miss so much in life including the pleasure of listening to music. Joseph and his band, Third Rail, have been actively involved with the start of OOHF's New York chapter. Merrill Osmond, lead singer of "The Osmonds," and his son, Justin Osmond, were on hand to perform with Joseph and Third Rail. They also had the pleasure to perform with legendary singer/songwriter Garland Jeffreys. The next fundraiser is scheduled for Thursday, June 4, 2020.
Joseph dedicates his involvement to his Uncle Sammy, who was deaf, and to all the boys and girls who are hearing impaired, especially his friend, Kyle Meyfohrt. Bringing "Music To Your Ears" (the name of the OOHF theme song) is the goal of this organization. Joseph was recognized for his dedication to do that, as demonstrated by his continued commitment to support the organization's mission and to help spread the word of the Olive Osmond Hearing Fund. Joseph's involvement each year has captured the essence of exactly what the foundation hoped the audience would feel at these events "For kids, about kids, by kids". Joseph is practicing the Marywood mission of fostering leadership in the service to others and living our Core Values each day.