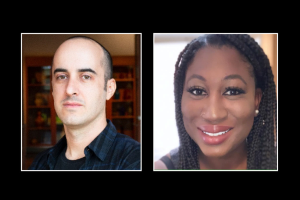 Black History Month Events
The Marywood University Truth, Racial Healing, and Transformation (TRHT) Center has scheduled two Zoom events to commemorate Black History Month.
Thursday, February 17, 2022, 6-7:30 PM
Diogo Carvalho - Assistant Professor, Music, Theater, & Dance - Marywood
Topic: Open the Bruise Up: Identity and Memory in Steve Reich's Music
Born in São Paulo, Brazil, scholar, performer, and composer Diogo Carvalho writes engaging concert music that communicates to contemporary audiences, having pieces performed all over the world, often by himself at the guitar. Carvalho has worked with the Unheard-of/Ensemble, Irvine Arditti, Jeremy Huw Williams, Laurent Estoppey, Hermeto Paschoal, and many others. An active scholar, Carvalho presented his current research on Steve Reich and narratives of identity at musicology conferences in Europe, US, and Asia. Carvalho serves the international music community as the Artistic Director for the São Paulo Contemporary Composers Festival and the Director of the Composers Forum at the Vienna Summer Music Festival. Carvalho assumed an Assistant Professor position at Marywood University in Fall 2021.
Wednesday, February 23, 2022, 6 - 7:30 PM (Zoom)
Amber Viola - (Marywood alumna)
Topic: Black Maternal Death Rate
Amber Viola is a graduate of North Pocono High School. She then enlisted in the United States Navy. Amber served honorably for eight years. While in the military, she advanced to the rank of Gunner's Mate Second Class. She was a Naval Military Training Instructor and a Department of Defense Victim Advocate. While being a Victim Advocate, Amber realized that she wanted to spend her life serving people and her community. Once Amber left the Navy, she enrolled in Marywood University and completed her bachelor's degree in social work. She is currently working towards her master's degree in social work. Amber served as the Human Resources Director for the city of Scranton, and sits on multiple boards. She is now the Commander of the Gouldsboro American Legion and a mother to five-year old Jacquelyn Viola. She is a community activist and advocate for those who cannot advocate for themselves.
To register for the above events, please click on the topic links.
Additionally, join Upside in celebrating Black History Month on February 22, 2022, with their Black History Month Kahoot! This event also will be held via Zoom.To register, please contact Dr. Lindsay Phillips at lphillips@maryu.marywood.edu.