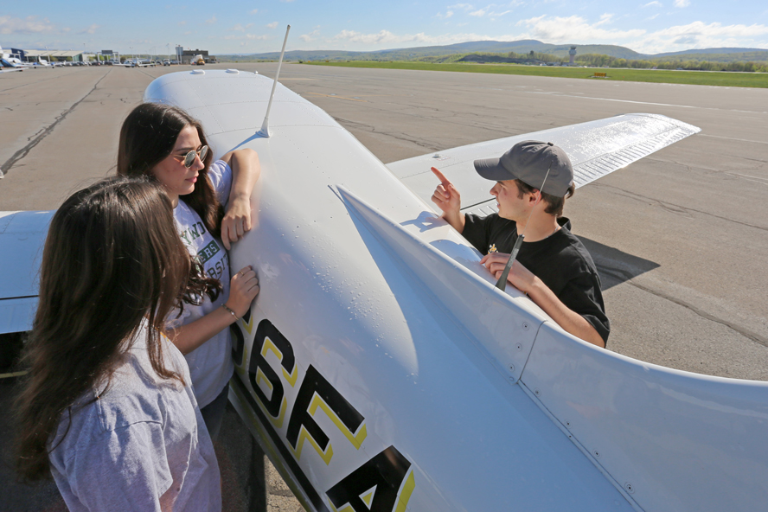 What can you do with a Degree in Aviation?
What Can You Do with a Degree in Aviation?
Want a career where the sky isn't the limit? A degree in aviation could be your first class ticket to an unconventional and rewarding occupation. From chartering in the Alaskan bush to sauntering around international terminals in uniform and commanding flight platoons as an aviation officer, this degree provides a plethora of opportunities at home and around the world.
Take a look at where you can land in this expanding industry with a degree from one of the top ten flight schools in Pennsylvania.
Commercial Airline Pilot
Among most commonly considered aviation careers, and among the most lucrative, commercial pilots get passengers where they're going at cruising speeds averaging over 500 mph. Commercial pilots typically hold a bachelor's degree in transportation, engineering, or business. Flight students need to complete training with FAA-Certified instructors and hold a variety of certifications before qualifying for their commercial pilot certification.
Charter Pilot
A job with the flexibility and range of an airline pilot, but the face-to-face connection common in front-facing services, a charter pilot works closely with passengers to arrange transportation in the air and on the ground. While airline pilots work within the confines of a roster, charter pilots have no regularly scheduled flights or destinations with which they can become familiar. Like their airline-based counterparts, charter pilots must attain their commercial pilot certifications and maintain flight hours in conjunction with their company's policies.
Agricultural Pilot
Worried a rural lifestyle might keep you grounded? Crop dusting may be for you. Agricultural pilots fly small aircraft at extremely low altitudes to efficiently fertilize and protect countless acres of our country's farmlands. While agricultural pilots must hold their commercial pilot certifications as well as a sufficient amount of flight hours, these pilots also must have the agility and know-how to avoid obstacles their high-flying counterparts rarely have to worry about. Agricultural pilots see the majority of their work follow the growing season in their areas. As such, pilots in this field can follow the growing seasons across the country or pick up work chartering aerial surveying, sight-seeing, and even skydiving flights. Other crop dusting pilots find work as flight instructors or combating wildfires outside of the growing season.
Airline Operations Management
If the unpredictability of the above professions is incompatible with your desired lifestyle, a career in aviation may still be for you. A degree in aviation management not only provides a strong foundation for budding pilots, but prepares students for the administrative functions supporting all aviation operations within a facility. Employees in these positions handle everything from customer service to the safety compliance and aircraft maintenance necessary to keep the terminal up and running.
The Aviation Management Program at Marywood University offers a range of certification and educational opportunities. The University boasts a state-of-the-art Crew Resource Management Simulator and top-notch facilities for grounded instruction. Marywood also holds an exclusive contract with the Wyoming Valley Airport (KWBW) to allow for in-flight instruction.
The Career Development Center at Marywood is eager to help you understand the career options available to you in the degree of your choice. If you're ready to get started on the path to landing one of these impactful careers, earning a degree from Marywood is an excellent starting point because setting an academic foundation is the first step in finding your passion and realizing your purpose.