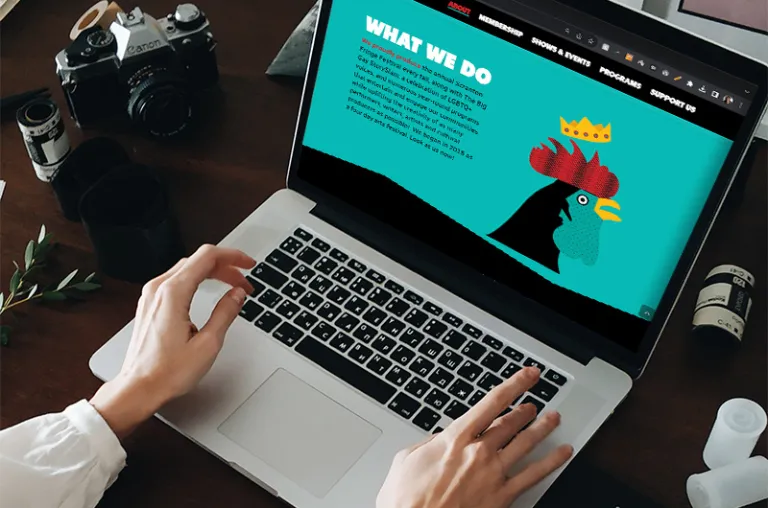 Art Students Design Scranton Fringe Festival Website as a Service Project
The Scranton Fringe Festival website has a new look, thanks to the creative work and volunteer service of graphic design students at Marywood University.
In the spring, Marywood graphic design majors in the Art 441I: Interactive Design II class, taught by Sue Jenkins, MFA, associate professor of art, completed a service learning project to design and develop the new website for the local arts event, which is scheduled to take place this year from September 28-October 7. Launched at the end of May, the site features two new levels of Fringe Membership, a new event system, a bunch of chickens (explained on the site's About page), and interesting news about the events and programming at the Scranton Fringe Festival.
Conor O'Brien, co-founder and executive director of Scranton Fringe, appreciated the Marywood University students' willingness to volunteer on the project. "They gave it a full facelift and helped us integrate a lot of exciting new features," said Mr. O'Brien. "It took hours and hours and hours of work, and everyone at Team Fringe is extremely grateful! A special thank you to Posture Interactive, who has been supporting us for years and who assisted with the new site launch as well."
Scranton Fringe is an award-winning arts organization producing innovative work since 2015, dedicated to creating a bold, engaging platform for thought-provoking art while striving to promote Northeast Pennsylvania as a viable creative environment. Inspired by the world's largest annual event, the Edinburgh Festival Fringe, the organization has grown into an incubator of unique creative work centered around the performing arts.
Marywood University has nationally recognized graphic design and illustration programs, offering undergraduate and graduate degrees.
Learn More About Our Degree Programs: