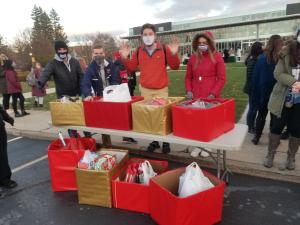 Making Spirits Bright Campaign Helps Numerous Community Members
Marywood University's answer to encouraging prayer, sharing gifts, and uplifting people through November and through New Year's Day is a success. Marywood University began its festivities in November with its "Making Spirits Bright," initiative, prior to students leaving campus to finish the remainder of their semesters online.
The students desire to help plan and share in the holiday event, which has become such a special part of their Marywood experience, was the catalyst for campus representatives to gather with students and find creative, community-minded solutions. The timeline also connected to the spirit of Marywood's sponsors, the IHM Congregation, who celebrate their Founders' Month in November.
Marywood University's Community Christmas Card Writing project yielded nearly 5,500 Christmas cards that were delivered to 18 different groups locally, nationally and internationally. Participants included 17 clubs and campus organizations, 2 athletic teams, 21 additional individual students, 58 staff members, 20 departments, 5 faculty, 1 retiree, the retired IHM sisters living at Our Lady of Peace residence, and 97 students at St. Mary of Mt. Carmel Elementary School, Dunmore, Pa.
Recipients of the Community Christmas Card Writing project included Marywood Heights residents, Our Lady of Peace residents and staff, NativityMiguel School students and staff, the Gino Merli Veterans Centers residents and staff, St. Francis Commons residents and staff, Regional Hospital staff, Moses Taylor Hospital staff, Geisinger CMC staff, St. Joseph's Center residents and staff, Friends of the Poor staff, the children in Big Friends Little Friends after-school program, and active/deployed military members.
Marywood University also collected a record number of gifts this year, thanks to the generosity of the "Making Spirits Bright" initiative. More than 160 gifts were provided to local children/teens through Friends of the Poor, 73 gifts were provided to Marywood Heights residents, and 146 items for persons experiencing homelessness were donated to the Keystone Rescue Mission.
Marywood University's "Making Spirits Bright" kicked off its campaign with an Outdoor Tree Lighting and Blessing of Nativity. Student groups typically create ornaments for the tree, but, since it was an outdoor event this year, the student organizations decided to participate in campus decorating efforts with Marywood's Grounds/Maintenance staff. Campus decorating was completed by 18 volunteers who contributed 54 hours of service to decorate campus.
Marywood University continues its "Making Spirits Bright" project through New Year's Day. The "Light Up Campus" drive through light display will remain in place through the New Year. Additionally, Marywood University's award-winning, student-run radio station, WMFM 91.7, will continue its traditional community gift of broadcasting commercial-free Christmas music, 24/7 through News Year's Eve. And, Marywood University's concerts, events, mass, and chats can be accessed, at youtube.com/watch?list=PLNBU0ru7D18C-3quPrCUVwxt2FTeHZD6I&v=r_pZAXVqVO4&feature=emb_title.