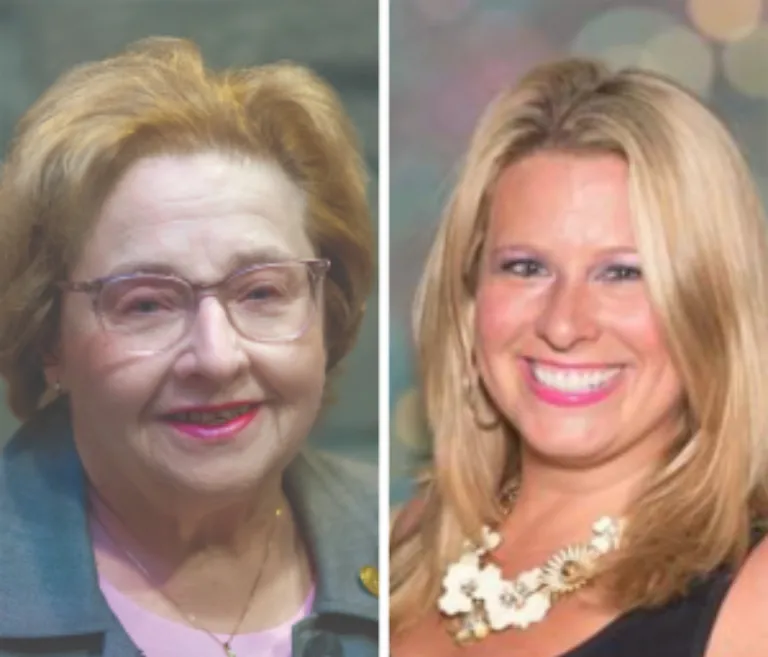 2022 CLC Co-Chairs Announced
When Marywood University honors Sister Gail Cabral, IHM, Ph.D. for a lifetime of service to Marywood and the community in May, the work and dedication of her colleagues and friends will be evident in the special celebration. Event co-chairs Mary Anne Fedrick, Ph.D., a retired Marywood dean, and Maria Gogal, a Marywood trustee, both longtime friends of Sister Gail, are working to ensure the success of Marywood University's Ninth Annual Community Leadership Celebration, set for Thursday, May 5, 2022, at 5:30 p.m., at the Center for Athletics and Wellness on the University's campus.
Fedrick
Dr. Fedrick retired as the Dean of Marywood's Reap College of Education and Human Development in 2013. Her distinguished Marywood career spanned nearly 30 years and included leadership positions in the library, admissions, academic affairs, and enrollment management, prior to her service as an academic dean. She received a bachelor of arts degree in education from Marywood, later adding a master of science in library science and a master of arts in counseling, also from Marywood. Dr. Fedrick earned her Ph.D. in higher education from the Pennsylvania State University. While at Marywood, she was a member of countless university committees and boards of professional associations, often serving in leadership roles. Upon retirement, she earned the Sister M. Denis Donegan Award for Distinguished Service from the Marywood Alumni Association. Dr. Fedrick's post-retirement activities have focused primarily on service to educational and cultural organizations, including NativityMiguel School of Scranton, Fricchione Center Advisory Group, Fine Arts Fiesta, McGlynn Learning Center, Pennsylvania Library Association, and Marywood and Penn State alumni groups, among others.
Dr. Fedrick noted, "Sr. Gail Cabral has been involved in so many areas of Marywood and the wider psychology and educational world for so many years. Her gentle, inquisitive, and caring style have touched the hearts and minds of students, faculty, and friends. She truly deserves to be celebrated for all her accomplishments."
Gogal
A Marywood trustee, Ms. Gogal, of Pottstown, Pa., is the Director, Oncology Global Expert Input and Medical Education in Global Medical Affairs, for Merck Research Laboratories, Merck & Co., Inc., North Wales, Pa. She joined Merck after graduating from Marywood University in 2004, and has been promoted within the organization in various leadership roles since then. Ms. Gogal holds a bachelor of science degree in industrial/organizational psychology, with a minor in business, from Marywood, as well as a master of science in jurisprudence in health, science, and technology law, from Seton Hall University of Law, Newark, N.J. A Marywood trustee since 2015, she serves on the University Advancement Committee and the Committee on Trustees. Ms. Gogal has done volunteer work for several nonprofit organizations, including the Development Committee for the Women's Health and Counseling Center at Zufall Health Center, Feed My Starving Children, American Cancer Society, Ronald McDonald House, America's Grow A Row, and sponsoring a child in El Salvador through Compassion International.
Citing Sister Gail's distinguished record of service, Ms. Gogal observed, "After over a half-century as a cornerstone of the Marywood mission, we are celebrating the legacy of this incredible woman. I urge everyone, especially those who have learned from, worked with, or been touched by Sister Gail's life and work, to join us at this festive gathering, at which we will pay tribute to her and also support Marywood students, which, by the way, is the best tribute we can give to Sister Gail."
The Community Leadership Celebration, Marywood's signature fundraiser, provides special support to Marywood students and honors individuals in the community who exemplify Marywood's core values in leadership and service to others. Sister Gail, a licensed psychologist, who is retiring after 52 years as a Marywood psychology faculty member, will receive the University's Lead On Award, in recognition of her lifelong commitment to education, to service, and to the common good. Proceeds from this year's event will benefit the President's Innovation Fund, which supports Marywood students through initiatives that enhance the academic experience in the IHM tradition.
Tickets and event sponsorships are available now. Please visit marywood.edu/clc or call (570) 348-6238 for more details about honoring Sister Gail Cabral, IHM at Marywood University's Community Leadership Celebration on May 5.