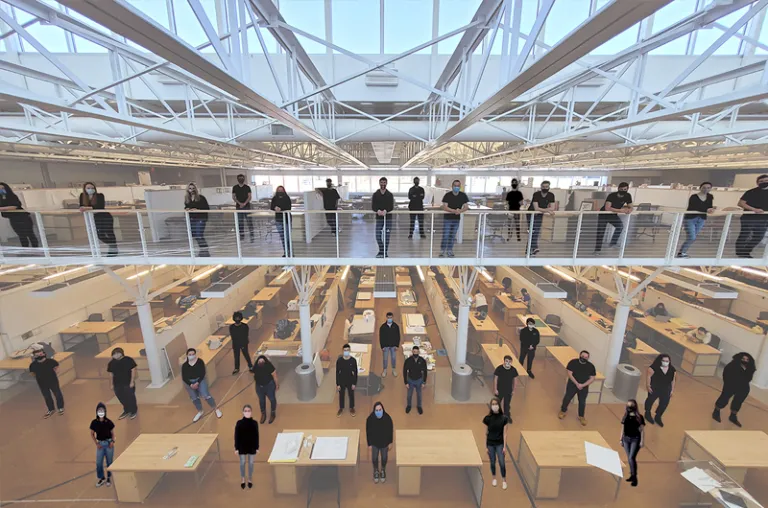 Architecture Students Win First Place in International Design Challenge
Marywood University School of Architecture students recently won first place in the Attached Housing Division of the 2021 U.S. Department of Energy Solar Decathlon Design Challenge. The students' design is the Electric Jane—an affordable, net-zero energy prototype for Habitat for Humanity.
The Solar Decathlon is an international collegiate competition, comprising 10 contests, that challenges student teams to design and build highly efficient and innovative buildings that are powered by renewable energy.
In addition to the support of Marywood faculty throughout the competition, students were also supported by industry partners, including Richard Pedranti Architect (RPA), Greenman-Pedersen, Inc. (GPI), Build SMART, and Habitat for Humanity.
Marywood University faculty members including Jodi La Coe, Ph.D., assistant professor of architecture; and Elizabeth Andrzejewski, instructor of architecture at Marywood University, served as the team leaders, and were supported by Maria MacDonald, professor of practice of interior architecture and executive director of the Center for the Living City; Russell Roberts, lecturer in the School of Architecture; and Bill Conlogue, Ph.D., professor in the English program at Marywood University; as well as other faculty who offered their expertise to the students.
Winners of the design competition were announced on Sunday, April 18, 2021, during the competition event. The winning project will be exhibited publicly during the Observe Scranton Festival on May 7-8, 2021, at Fancy Parsley, 233 Oakford Court, Scranton.
For additional information about Marywood University's School of Architecture or call the Office of Admissions at (570) 348-6234. For additional information on the Observe Scranton festival, please visit observescranton.org.