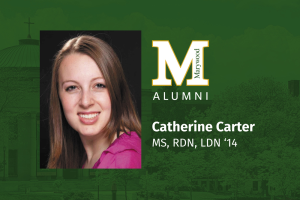 Marywood Graduate Has Research Published
Marywood University alumna, Catherine Carter '14, Allentown, Pa., MS, RDN, LDN, a graduate from the nutrition and dietetics department, recently had her research spotlighted in the Pennsylvania Academy of Nutrition & Dietetics.
For her research, Ms. Carter's efforts over the past four years have been geared towards malnutrition, including pathway development, indicator validation, effectiveness of the physical examination, reimbursement, and reviewing alternative malnutrition tools such as Global Leadership Initiative on Malnutrition (GLIM) and European Society for Clinical Nutrition and Metabolism (ESPEN) criteria.
Ms. Carter completed her undergraduate degree in nutrition at Marywood University, where she was able to complete her internship as part of the coordinated program at the University. She interned at several different sites throughout the area and was given the opportunity to travel to duPont Hospital for Children, where she discovered her passion for pediatrics.
Ms. Carter said, "Meeting actual people who are suffering from the effects of malnutrition brought a sense of urgency and passion to my work. I hope that the continued research and advocacy will help us to prevent and alleviate the burden of malnutrition for our patients."
In addition, Ms. Carter also completed her master's degree in nutrition at Central Michigan University's Global Campus program in October 2019 where she spent nearly three years studying adult malnutrition, nutrition-focused physical examination, and the relationship between handgrip strength and respiratory muscle strength.
Marywood University's Didactic Program in Dietetics (DPD) provides students with a theoretical background in food science and preparation, general nutrition, life cycle nutrition, medical nutrition therapy, food systems management, research, and community nutrition. The DPD undergraduate program at Marywood offers two curriculum options, including the traditional curriculum option and the DPD Spanish emphasis curriculum option.
Read more about Catherine Carter's research »