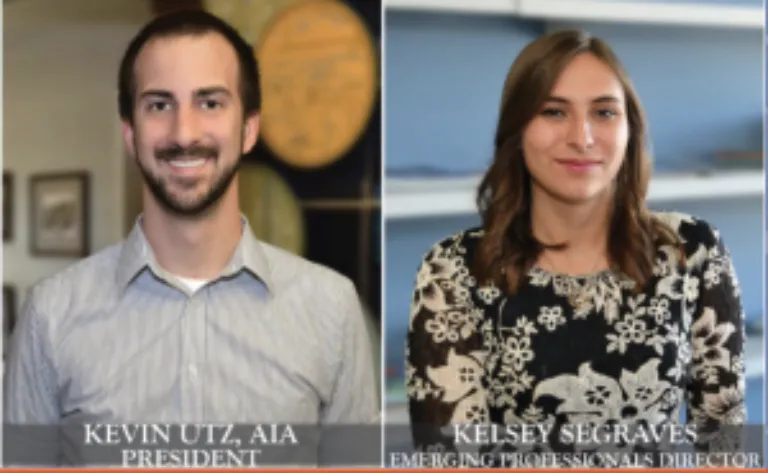 Marywood Alumni Elected to AIA Chesapeake Bay Chapter Board of Directors
Marywood University alumni, Kevin M. Utz, AIA, and Kelsey M. Segraves, Assoc. AIA, were elected to the American Institute of Architects (AIA) Chesapeake Bay Chapter Board of Directors. Both are graduates of Marywood University's School of Architecture, and the pair are employed at Becker Morgan Group.
Mr. Utz was elected president of the AIA Chesapeake Bay Chapter in early 2020, and has been reelected to the role for 2021. He said, "There's always something to be done when it comes to bettering ourselves personally and professionally. Leadership within AIA allows me to make positive impacts in our communities and the architectural profession at large. I'm thrilled to continue leading such a vital organization to help improve the built environment in our region."
Ms. Segraves was elected to the Emerging Professionals Director position for the Chapter. In this role, she serves as a resource to recent graduates and interns. Ms. Segraves said, "I have had many wonderful mentors over the past several years. I'm honored to continue that network of support by encouraging others in our industry to succeed."
Graduates of Marywood University's School of Architecture, Mr. Utz earned a bachelor of architecture degree in 2015, and Ms. Segraves earned her bachelor of architecture degree, along with a minor in business.
AIA Chesapeake Bay's mission is to advance the architectural profession by encouraging professional development, providing networking opportunities, educating the regional community, and supporting ethical business, professional licensure, and code practices.
The professional undergraduate program in architecture at Marywood University is a five-year program that is intended for students who will pursue a career as a licensed architect or advanced study in the field of architecture. The Bachelor of Architecture is the primary architectural degree offered in the School of Architecture and is accredited by the National Architectural Accrediting Board.