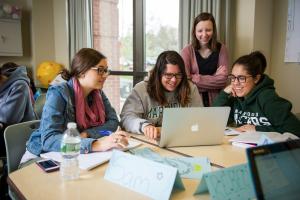 Marywood's Higher Education Program Earns Top Ranking
Marywood University was recently notified that it has earned top ranking for Best Online Master's in Higher Education Degree Programs by Intelligent.com. Additionally, Marywood University received a unique distinction for Best Catholic University.
The comprehensive research guide is based on an assessment of more than 1,200 accredited colleges and universities. Analyzing 195 schools, on a scale of 0-100, with only 54 schools making it to the final ranking list, Intelligent.com evaluated colleges and universities on the basis of curriculum quality, graduation rate, reputation, and post-graduate employment. The 2021 rankings were then calculated through a unique scoring system which includes student engagement, potential return on investment, and leading third-party evaluations.
Marywood University's fully online Master's of Higher Education Administration program prepares students for a variety of careers in public and private colleges and universities. Marywood's faculty are dedicated to providing opportunities for building connections, and assisting students in determining which functional area to pursue by focusing on professional development throughout the program.
[ More Info About Program Link ]
For more information about Intelligent.com, The Best Online Master's in High Education Degree Programs, please visit intelligent.com/best-online-masters-in-higher-education-degree-programs/.