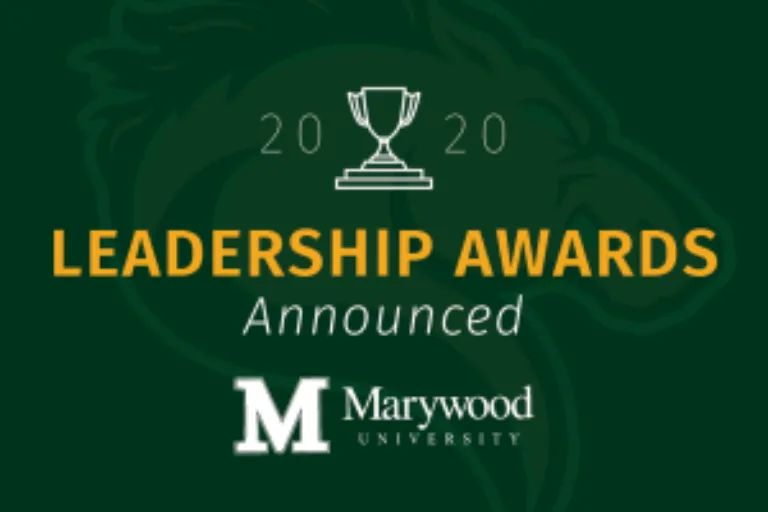 Annual Leadership Awards and Student Life Senior Medalists Announced
Marywood University's Office of Student Engagement recently held nominations for the University's Annual Leadership Awards. The winners were announced each day on Facebook, beginning with a video message from Sister Mary Persico, IHM, Ed.D., Marywood University president, to the graduating class of 2020. More than 40 staff members recognized nominees and announced annual leadership award winners virtually.
Sister Mary said, "I'm impressed by the more than 100 nominations and by the faculty and staff who made those nominations. Over and above that, I want to thank the more than 40 faculty and staff who agreed to read all of the nominations and select the winners. Congratulations to all of the award winners and nominees and thank you to all of you for being great students—great leaders."
The nominees and winners of this year's Leadership Awards were announced beginning on Thursday, April 16, through Friday, April 24, 2020. The winners of this year's Leadership Awards are:
Jordan Cook, pre-dental major, winner of the Emerging Leader Award; Lisa Antoniacci, Ph.D., associate professor in the science department, winner of Advisor of the Year Award; Rob Ahrens, cross country and track and field coach, winner of the Coach of the Year Award; Thomas Flynn, financial planning major, winner of the Community Service Award; Brien McChesney, religious studies major, winner of the Fishbowl Award; Briana Caballero, music therapy major, and Michelle Torres, accounting major, winners of the Sister John Michelle Award for Acceptance and Inclusion; Madison Howell, music therapy major, winner of the Pacer Pride Award; Jen Moll, social work major, winner of the Outstanding Graduate Student Award; the Marywood University Physician Assistant Student Society (MUPASS), winner of the Kimberly Coleman Student Organization of the Year Award; Encore! hosted by the Marywood Players, winner of the Event of the Year Award; Lindsey Gladden, biology major, winner of the Award for Exceptional Leadership in Athletics; Peter Howey, criminal justice major, winner of the Student Veteran Excellence in Leadership Award; John Ferraro, Marywood University postmaster, winner of the People's Choice Award; and Brianna Rivera, psychology major, winner of the Outstanding Senior Leader Award.
In addition to the Leadership Awards, Ross Novak, dean of students at Marywood University, announced the Student Life Senior Medals, including Jennifer Amend, winner of the Dolores M. Ackourey Medal for Leadership and Human Relations; Gina Babcock, winner of the Judith Piznar Medal for Service to Youth; and Amber Viola, winner of the Sister Margrete Kelley Medal for Service to Others both On or Off Campus and Likelihood of Post-graduation Service.
Michael Kalage, director of the Office of Student Engagement said, "The Annual Leadership Awards Ceremony is something that we all look forward to at the end of each year, so we can take a moment and reflect on and celebrate everything that members of the Marywood University community have achieved throughout the year." Despite the physical closure of campus, Marywood wanted to ensure that the academic year didn't end without recognizing the amazing accomplishments of its students, faculty, staff, and student organizations. He added, "This is one of the many ways that we have used technology and social media to continue to engage our students and to let them know that we are thinking about them, we miss them, and we are proud of them."