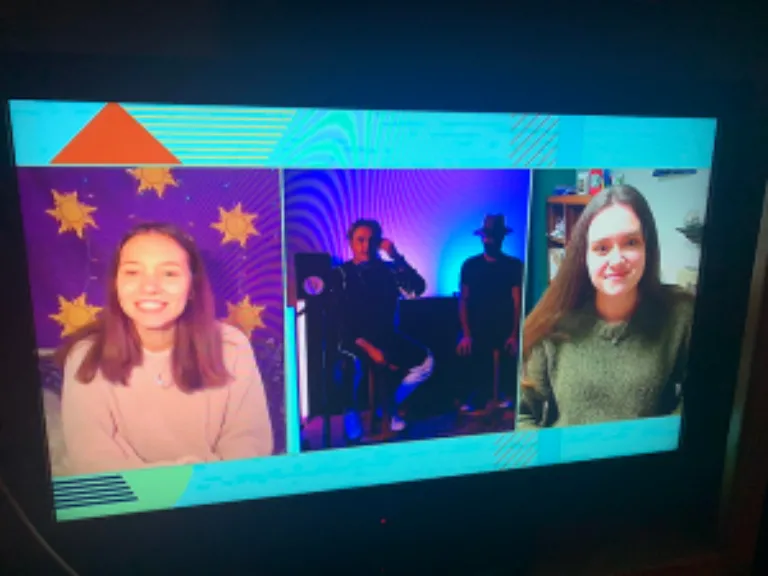 Jesse McCartney Concert Goes Off Without a Hitch
Marywood University recently held its "Winter Concert" headlined by singer-songwriter, Jesse McCartney. The private concert for Marywood University students was live-streamed and took place on Saturday, December 5, 2020, at 7 p.m.
To grow excitement, Marywood students were shown social media posts, as well as, mailed postcards and emails to get the word out around campus. These students had childhood memories of listening to Jesse McCartney's music and watching him on TV.
Lauren Walck, 5th-year Nutrition and Dietetics major said, "I heard about it [concert] from a social media post. I began texting my friends and we all registered for the event. I grew up watching Jesse McCartney on TV and listening to his music. A private concert with just us and him—that's pretty cool."
While Ms. Walck admits that in-person concerts offer a different type of experience, she said, "the Jesse McCartney's virtual concert had that same feeling of being able to walk away from the concert with a great feeling. I was impressed with the quality of the concert."
In addition to Jesse McCartney's music, the singer-songwriter held a Q&A. He picked 13 questions that were submitted by students. Ms. Walck was lucky enough to have her question selected, which was, "Have you ever watched the Office?" Funnily enough, Jesse McCartney admitted that he was watching the show just the night before his concert to Marywood students, and loves it.
Sophomore pre-professional biology major, Sophia Czabala heard about the concert through her sorority's Facebook post. She and her Zeta Phi Delta sorority sisters attended the concert together—well…virtually together.
Ms. Czabala said, "I grew up with Jesse McCartney, both watching him on TV and listening to his music. I think it's really cool, especially since we're a smaller school, but we have great concerts and events. I don't feel like I'm missing out on not going to a bigger school, as we have the same caliber of events here at Marywood."
Both Ms. Czabala and Ms. Walck admit that in addition to themselves, family members were also watching the concert with them, or walking through the room where they were each watching the concert.
Ms. Czabala said, "My mom walked through the room several times, and seemed confused about what I was watching. Since I basically grew up with Jesse McCartney, I thought this was just too cool."
While virtual delivery can often present a hiccup or two, students said that the Jesse McCartney concert at Marywood went off without a hitch. It was a different experience but also offered a moment of normalcy, fun with friends, and, of course, favorite songs.