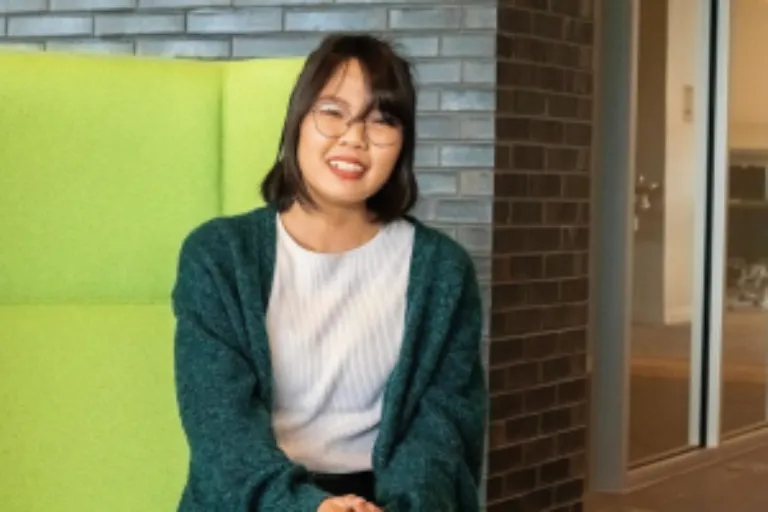 Student Wins First Place Award for Her Short Documentary
Jenny Nguyen, Scranton, Pa., senior Multimedia Communication major, was recently awarded first place for her short documentary, "Saigon's Daughter," at the 2020 College Media Association's (CMA) Film Festival.
The documentary features the story of Ms. Nguyen's mother, Thao Thi Pham, and her journey from Vietnam to America in search for a better life. Mrs. Pham was born during the start of the Vietnam War. She and her eight siblings survived by selling livestock. Jenny's uncle came to America first and earned enough money for the rest of the family to safely get to the United States. The six-minute documentary, "Saigon's Daughter," follows her mother's entire life journey.
"I intended this film to reach out to other families, from other countries, who are faced with discrimination, and who are looking for opportunities for a better life. It must have an exhausting impact on a person—on their mental health. For instance, my grandparents have always been very logical—survival first and emotions later. This film gave my mother the opportunity to open up for the first time. I hope, as a result of the film, that people will practice patience and understanding with those who are searching for a better life," Ms. Nguyen said.
In addition to pursuing her education, Ms. Nguyen works as a multimedia assistant at The Wood Word, Marywood University's student-run electronic newspaper. Further, she is a member of TV Marywood, Public Relations Student Society of America (PRSSA), the Society of Collegiate Journalists (SCJ), and she works as a wedding videographer and editor—work that she will continue following graduation.
As an aspiring filmmaker, Ms. Nguyen said, "Marywood taught me how to use its resources and tools to draw out my potential. It's why I chose Marywood when I was searching for colleges. I liked the versatility of production and that I could learn about journalism, public relations, advertising, and then work all of those skill sets into the focus of film.
The CMA serves student media pros, staff, and programs with education, research, and resources. CMA communicates and works with professional media organizations and education associations on the local, state, and national levels. Film and Audio Festival is designed to encourage and promote excellence in student video work by showing examples of top-notch projects in several categories. Submitted works for the CMA fall festival are completely produced by college students, and all works were completed after November 2, 2019.
Located in the Learning Commons at Marywood University, the Multimedia Communication department provides media tools necessary to publish an online newspaper; direct, produce, shoot, or edit video and audio programming; create and publish a public relations newsletter; work as on-air television or radio talent; create virtual sets; produce short films; manage social media accounts; broadcast live sporting events; and much more. In a media-driven world, a communication degree plays a central role in careers in journalism, corporate communications, human relations, policy and advocacy, film and TV, sports media, and public relations.
For additional information about Ms. Nguyen's short documentary, please visit youtube.com/watch?v=dXu1Is4gPbQ.