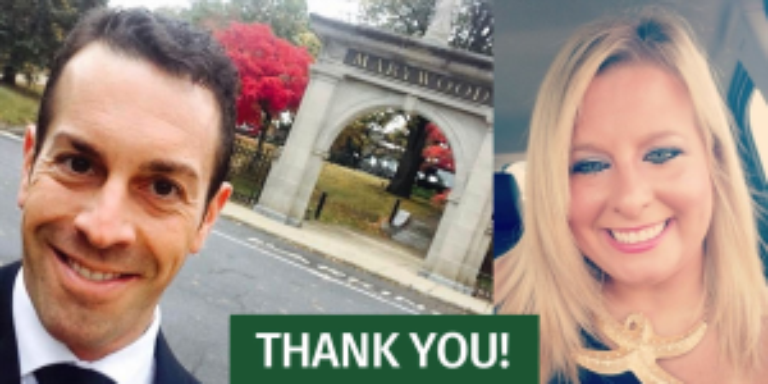 Giving Day Challenge Stimulates Healthy Competition
Marywood University's Annual Giving Day 2020, ONE DAY #ONEMARYWOOD, surpassed expectations, despite the tremendous challenges the greater community faces during the pandemic. The 24-hour Day of Giving provided students with the opportunity to see the full strength of the Marywood Family, including many alumni and friends who came together to celebrate and support them.
In addition to alumni messages of encouragement, videos, photos and social media posts that used the hashtag #ONEMARYWOOD, some Marywood alumni used the event to introduce a healthy competition among themselves. Such was the case for Board of Trustee Members, Michael E. Bugno '98, Director of Global Events at Fiserv; and Maria C. Gogal '04, Director of Oncology Global Expert Input and Medical Education in Global Medical Affairs at Merck.
Mr. Bugno's challenge of 25 Donors for a $2,000 gift to Campus Ministry Service Programs and Ms. Gogal's challenge of 50 Donors for a $1,000 gift to the Student Emergency Fund both surpassed expectations. Ms. Gogal's challenge of 50 donors was matched by Merck through the employee matching gift program.
Prior to Giving Day 2020, Mr. Bugno and Ms. Gogal had both been involved in Giving Day events. This year the competing duo proved to be very successful when they introduced challenges to enhance both participation and donations. As a result, other Board of Trustee members and Marywood community members added to the Challenge Board.
Mr. Bugno said, "Maria and I just clicked; we're extroverts with purpose, passion and persistence! With her athletic competitive nature, I knew we'd be a great team and match for one another. The goal for Giving Day was participation, not dollars; I'm thrilled that united we surpassed our goals on both fronts."
Ms. Gogal echoed similar sentiments, "From the first day I met Michael, I knew he had a passion for Marywood and all that it encompasses. When he told me that he put up a challenge – I knew it would not only be a fun and successful rivalry, but no matter the outcome, the real winner was the Marywood community and its students."
Mr. Bugno's passion for Campus Ministry and its service opportunities was a personal matter. "I've always been an advocate for Marywood because of its impact on me," Mr. Bugno said. As a student, he was unable to attend the Alternative Service Break Trips due to routine theatre rehearsals and productions, which took place at the same time. Once the occasion presented itself post-graduation, Mr. Bugno seized the opportunity to participate in the Alternative Service Break Trip to Guatemala. The experience was eye opening to both the students and Mr. Bugno, who continues to pay it forward by giving others that same opportunity.
Mr. Bugno said, "I am proud to announce that the support for Campus Ministry Service Programs from 113 donors raised more than $10,000 and the gifts continue to come in. I look forward to hearing how our students will serve other communities both locally and globally."
Last year Ms. Gogal's challenge supported athletics. As a Marywood tennis Hall of Famer herself, she knows the importance and benefits that athletics instill on students. However, this year, she wanted to direct her giving to the students who needed it the most.
Ms. Gogal said, "We are amidst a difficult and unprecedented time, and I want to ensure that each student has an opportunity to access Marywood's quality education despite any current obstacles."
Ms. Gogal's challenge in support of the Student Emergency Fund supports Marywood students in need, as it provides critical resources to help ensure their ability to continue their education. This Fund is especially important at this time, as it can help students access technology resources to continue with their education, such as laptops or Wi-Fi access, and it can help students meet other unexpected expenses.
These two alumni are thankful to all who donated during a time when so many people are in need. "Maria and I are humbled by all the generous gifts; we're inspired to know that many gave so others could receive. There simply is no better gift!" Mr. Bugno said.
Mr. Bugno, formerly of Clarks Summit, is an accomplished strategic global event and marketing leader, with more than 15 years of success in both planning and executing corporate events for mid-sized and Fortune 200 Companies. Presently, he is Director of Global Events at Fiserv. Mr. Bugno's vast experience in marketing and corporate events includes Lectra (New York, NY and Atlanta, GA); Food Network (New York, NY); and Comedy Central (New York, NY). He also worked for Walt Disney World in Lake Buena Vista, FL, in College and International recruitment. In 2004, he merited the Marywood Alumni Association Recent Graduate Award and he previously served as a Marywood University Trustee from 2006-2015. Additionally, he has been a co-chair of sponsorships for Marywood University's Annual Community Leadership Celebration (2014-2018). Mr. Bugno holds a bachelor of arts in Theatre Arts Administration from Marywood University (Scranton, PA).
Ms. Gogal is the director of Oncology Global Expert Input and Medical Education in Global Medical Affairs, at Merck & Co., Inc. She was elected to the Board of Trustees at Marywood University in 2015, where she has assisted with planning for Marywood's Community Leadership Celebration and serves on the Committee on Trustees. Ms. Gogal does volunteer work for several non-profit organizations, including membership on the Development Committee for the Women's Health and Counseling Center at Zufall Health Center, Feed My Starving Children, American Cancer Society, Ronald McDonald House, America's Grow a Row, and she sponsors a child in El Salvador through Compassion International. She earned her master of science in Jurisprudence in Health, Science, and Technology Law, magna cum laude, Seton Hall University of Law, Newark, NJ, and her bachelor of science in Industrial/Organizational Psychology with a minor in Business, magna cum laude, from Marywood University.
For additional information about giving opportunities at Marywood University, please visit www.marywood.edu/support/ or call the office of University Advancement, at (570) 348-6238.